HBCU's Enrollment Increase Thanks To Donald Trump…
(Akiit.com) This turn of events is certainly an occasion of "politics making strange bedfellows."
This familiar refrain is the only explanation for my issuing an unabashed "THANK YOU" to Donald J. Trump, his motley crew of ill-informed advisors, and the droves of emboldened racial bigots espousing bigotry in public spaces. Put simply; White bigots have followed American leaders such as Trump down a dastardly path that has purposely heightened racial tensions to a level that reminds one of the Jim Crow Era.
Black America's response to heightening racial tensions has been the same one that persons of African descent have always used; that being, a heartfelt search aimed at throwing up a path that increases their chances of surviving. For many non-Blacks, this latest cycle of physical, cultural, and psychological violence has been shocking. The vast majority of non-elite Blacks consider it par for the course.
African-Americans have never had the luxury of feigning ignorance regarding American racial matters. A cursory glance of the Black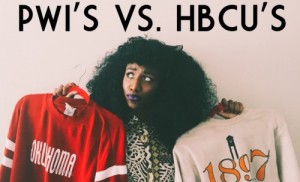 experience on the North American continent proves that the stakes are much too high for indecisiveness. Hence, it should not be shocking that Black parents would issue some response to the rise in revolting racial bigotry emanating from a populace of Whites whose sole priority is extending what amounts to a tyrannical rule of this nation as if it is their birthright bequeathed by unidentified ancestors. One of the most notable responses to the continuing ascension of racial bigotry and racism in this nation from Black parents has been the decision to send their children to H.B.C.U.'s (Historically Black Colleges and Universities).
If nothing else, the decision to send their offspring to an H.B.C.U. reveals a desire to cordon them off from what has historically been Black America's foremost irritant, White folk.
In all fairness, the incivility espoused by Trump and his "advisors" is not the only catalyst to increasing racial turmoil. However, we must not foolishly dismiss the linkage between the phrase-mongering of American political leaders and the loosening of tongues that should never be allowed to speak in public.
Race relations have gotten so bad that Blacks who matriculated from PWI's (predominantly White institutions) have decided to forego their alma mater in favor of the seemingly hospitable confines of HBCU's throughout the nation. There may be no more definitive sign that the vast majority of Blacks consider PWI campuses ground zero for the articulation of White Nationalism.
Historically "safe spaces" such as the University of California-Berkeley have transformed into bastions of hostility when it comes to Black collegians and faculty. To the chagrin of Black parents throughout the nation, there does not appear to be any "safe spaces" for Black collegians on PWI campuses.
The migration of Black students from PWI campuses to HBCU's reminds me of the push/pull construct that historians rely on to explain Blacks decision to flee Jim and Jane Crow. Unfortunately for Blacks, the historical record indicates that Jim Crow resided in every corner of this nation. Historians agree that there were factors that "pushed" Blacks from their southern roots such as: lynching, rape, denial of the franchise, lack of educational opportunities. At the same time there were pull factors (educational opportunities, jobs, political rights) that encouraged Blacks migration. Although I personally know that there are many "pull factors" capable of attracting Black students to HBCU's, at the present moment, it appears that the rise in racial bigotry is proving weightier than all other factors.
At the present moment, it appears that Black parents are responding to rising racial tensions by sending their children to pursue higher education at an HBCU.
So, I must give a heartfelt thanks to Trump and his minions for the following reason. During this moment where many HBCU's are struggling to remain open for a host of reasons (largely financial), the influx of Black undergraduates onto its campuses is a much-needed blessing. This occurrence makes me smile as it lends support to the old Christian saying that "He's an on time God. He may not come when you want him, but he'll be there right on time."
Columnist; Dr. James Thomas Jones III
Official website; http://www.ManhoodRaceCulture.com