Huey P. Newton? How Would Black Panther Party Have Reacted To The Coronavirus.
(Akiit.com) Over fifty years after its genesis, the Black Panther Party for Self-Defense reigns as Black America's most memorable revolutionary group. For most, the Panther's longevity flows from iconic imagery that never-fails to escape the limits of time. For an oppressed people starving for strong images, photos and footage of Black men resisting White oppression were intoxicating. There was no doubt that Panther co-founders Huey P. Newton and Bobby Seale had issued a direct challenge to marauding Whites seeking to extend Black America's misery and suffering.
Although the referenced iconic imagery ensures the Panthers omnipresent importance, it is proving to be a double-edged sword in the following manner. The admiration that Panther guns engender among supporters who continually reconstruct the organization in their minds has led to a cavernous hole in their understanding of Panther history. Such populations are quick to miss the crucial fact that the vaunted "Panther Patrols" — a program of Panther members patrolling police officers as they patrolled black communities — was only one of a series of community service activities. Panther Party community service activities ranged from free breakfast for children and grocery programs to the creation of sickle cell anemia testing/treatment centers.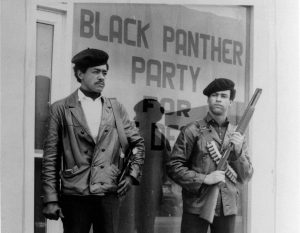 There is no need to rehash the plentiful data regarding the disproportionate impact that the Coronavirus global pandemic is having on Black America. Ironically, the potential "hotspots" for future outbreaks are the same locations where many of the Black Panther Party for Self-Defense's local chapters were located. An understanding of Panther history leads my belief that it is time for Black America to follow the revolutionary example provided by Newton, Seale, Hutton, Pratt, Rush, and Hampton by 'Seizing the Time' and showing the power of the people by taking definitive steps to address this pandemic.
Just as Newton and Seale addressed Black America's most pressing problems in an organized manner during the volatile 60's protest era, contemporary Black Nationalists must take similar steps by educating and enforcing guidelines to prevent the Coronavirus spread among our community. Although such community service efforts are neither sensational nor lauded as the "Panther Patrols", they are as integral to Black survival in this time of crisis as the Free Breakfast for Children, Ambulance service, Sickle-Cell Anemia Centers, and assisting the elderly within our community. According to Huey P. Newton, the Revolutionary's sole objective is to serve the people.
If provided the opportunity, I would advise those seeking to walk in the footsteps of the Black Panther Party for Self-Defense to abandon their fascination with the gun and paramilitary displays of machismo in favor of developing community service activities specifically designed to aid the community through this trying time. We can no longer afford to waste another moment mesmerized by romantic notions of a by-gone era. It is time that we recalibrate our strategies, tactics, and goals to fit this moment.
Columnist; Dr. James Thomas Jones III
Official website; http://www.ManhoodRaceCulture.com