Miss Black Florida USA to compete in Africa…
(Akiit.com) Without stage experience, pageant parents, or crown fever, Eunice Cofie, 27, of Tallahassee, succeeded earlier this year in winning the title of Miss Black Florida USA.
"A friend came to me and told me that I should really consider being a part of it, but I simply blew it off. I thought it was great for her, especially hearing that the possibility of traveling to Gambia was an option, but I really was not interested at the time."
Two months after that conversation, Cofie reconsidered.
"When I read the mission statement, I was drawn to it. The mission of the Miss Black USA organization is all about empowering young women. That being one of my life's missions, I decided to get involved," she said.
Cofie, who became Miss Black Florida USA 2008 in July, is using her platform to promote the prevention of childhood obesity through Project H.E.A.L.T.H. (Health, Education and Life Transforming Habits), a private study and afterschool program.
"I'm currently working on the pilot study," she said. "Once I started reading more about it and seeing how much it is affecting both children and adults, I knew I had to continue and do all that I could to bring awareness to the masses."

The Project, established by Dr. Joseph Webster Sr. of the Institute for African American Health, aims to decrease obesity and to educate parents and children about obesity-related diseases.
Cofie, whose parents are from Ghana, will travel to Gambia, West Africa, in June 2008 to compete for the title of Miss Black USA. Cofie's mother is a nurse; her father is a pharmacist.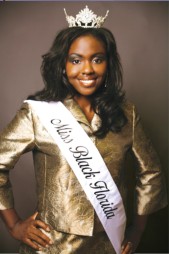 Cofie is proud to say that she is no stranger to Africa. During undergraduate studies at Florida A&M University, where she earned a bachelor of science in chemistry and molecular biology, Cofie spent three summers in Ghana. She organized and worked on an HIV and AIDS prevention and education project with the Student National Medical Association.
"I spent time in the villages working with medical professionals as well as the locals, dispelling the myths about the virus as well as providing medical care," she said. "We put the curriculum together and trained members of the community to go out and educate their peers."
Cofie added that the same curriculum was implemented as a guide for nurses who counsel families of patients with HIV.
"We received a full clinical experience," she said about her time in Ghana. "It's a wonderful experience, but heartbreaking. If I had a lot of money, I would do so much more."
"In the face of everything happening in Africa, it seems that you can't do enough. But to the African people, our presence and help means the world."
Through her many visits, Cofie said she has developed a love for Africa. "My plan is to visit every country."
Cofie admits that the pageant in Gambia will be more work for her than earning the Miss Black Florida crown.
"My parents, though supportive, were not pageant parents; the decision to do the competition was mine,'' she said. "I constantly seek advice from others; watch tapings of past contests. I will hire a coach to help with my stage presentation."
She expressed no anxiety about competing amongst those with pageant and stage experience.
"My focus is growing as a person and taking the opportunity to do my best, not just a crown," she said. "I am viewing this experience and my exposure as a means for which I can serve others, not just myself.''
Written By CYNTHIA A. ROBY