Community Leaders Collaborate with UNLV Libraries to Launch, etc.
(Akiit.com) Collaborate with UNLV Libraries to Launch first-ever "portal" into African American History in Southern Nevada…
With the "click" of mouse, a portal into the history of African Americans in Southern Nevada was launched today at a gathering of prominent community leaders and UNLV administrators at UNLV's Lied Library.
Today's celebration marks nearly three years of collaboration between like-minded community leaders who originally converged to discuss the history and contributions of local African Americans through the years. While much attention has been paid to the growth of the gaming industry and other facets of our area, not nearly as much has documented the influences that the local black community has had and continues to have on the influence of our city's growth and development.
That initial conversation grew into something much bigger and more focused…a collaborative research effort, named the Las Vegas African American Experience Project, to document the history of the local African American community. UNLV is pleased to be the facilitator of this important project, of which the first phase is a first of its type website portal.
First conceptualized in 2011, the portal is designed to tell the story of African American life in this city through many voices, spanning numerous generations. An essential goal of the project is to provide broader access to the many collections owned and/or housed by individuals and institutions throughout Southern Nevada via a Web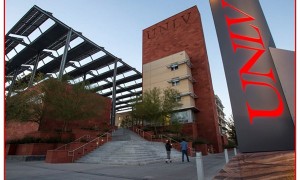 portal. This unique website allows assets from various collections to be woven together to tell a more comprehensive, researchable story of the history of a people.
"With the addition of this web portal, the community including researchers now have access to the history of the African American experience in Southern Nevada," said Patricia Iannuzzi, dean of the UNLV University Libraries. "The content can be used to develop educational materials as well as offer the information to families, individuals, and researchers worldwide. So far, there are nearly 500 items in the online digital collection, including photographers, documents, video, and sound recordings."
"Las Vegas native and author Trish Geran approached Vegas PBS in 2011 with a request to air a play about the Las Vegas black community," said UNLV Oral History Research Center Director Claytee White. She spearheads the efforts to collect and preserve local African American history. "It turned out, Vegas PBS thought it was a wonderful idea that should be expanded upon, and we invited community members to collaborate and began gathering the history of the black experience in Las Vegas."
The initial phase of the site has been completed, and features a compilation and digitization of African American history in Las Vegas through the eyes of those who experienced it and are currently living it. As additional historians join the project and make their own contributions, the site will continue to grow and be updated.
The project has come to life through the efforts of a number of collaborative partners, including: the Clark County Museum; Henderson Libraries; Las Vegas Clark County Public Libraries; Nevada State Museum, Las Vegas; Oral History Research Center at UNLV Libraries; University of Nevada Las Vegas Libraries; Wiener-Rogers Law Library at William S. Boyd School of Law; and Vegas PBS.

The team of community advisors responsible for this vital project includes community activist Hannah Brown; Senior Resident Scholar Sonya Horsford, Ed.D., of The Lincy Institute at UNLV; community member Jarmilla McMillan-Arnold; urban design coordinator/historic preservation officer for the City of Las Vegas Department of Planning Courtney Mooney; UNLV Associate Professor Todd Robinson, Ph.D.; doctoral student Carrie Sampson; and Brenda Williams, founder of the Westside School Alumni Foundation.
Topics in the current collection focus on:
• People/Individuals (oral histories)
• Neighborhood history (Jackson Street/Westside School)
• Historic sites and entertainment (Moulin Rouge and black showgirls)
• Specific collections (Goynes Collection/Jay Florian Mitchell Collection)
• Research topics (migration/religion)
• History happening now (PBS roundtables)
A second phase of the project, known as Berkley Square, will focus on the history of the neighborhood with the same name. Five panel discussions about the region, as well as about its financier and namesake Thomas L. Berkeley, were held during the fall of 2013 and filmed by Vegas PBS for use on the website portal at a later date.
Funding for the Las Vegas African American Experience Project is made possible by a grant from the U.S. Institute of Museum and Library Services.
About UNLV
UNLV is a doctoral-degree-granting institution of more than 27,000 students and 2,900 faculty and staff. Founded in 1957, the university offers more than 220 undergraduate, master, and doctoral degree programs. UNLV is located on a 332-acre campus in dynamic Southern Nevada and is classified in the category of Research Universities (high research activity) by the Carnegie Foundation for the Advancement of Teaching.