Press Release: LetsBuyBlack365 Launches 2016 With Natiowide Movement.
(Akiit.com) Brooklyn, NY  – A nationwide grassroots Black
economic empowerment movement called LetsBuyBlack365 hosts its first press conference on December 29th in New York City at the Brooklyn Christian Center. The Center is located at 1061Atlantic Avenue between Franklin and Classon Avenues in Brooklyn, New York.
According to Reverend Dennis Dillon, the press event will be featured during the Center's week-long economic empowerment conference. It will be held on the fourth day of Kwanzaa highlighting the principle of Ujamaa which encourages the spirit of cooperative economics. It is scheduled to begin at 6:00 PM.
Participating Panelists:
Reverend Dennis Dillon, Brooklyn Christian Center
Robert E. Cornegy, Jr., Councilman, 36th District, Bedford Stuyvesant and Northern Crown Heights
Kamose Muhammad, President & CEO Freedom Paper Company
Chet Riddick, President, Alpha Office Enterprises
Chevonna Johnson, President AAU & Executive Director of Whitney
Foundation
Dr. Mawiyah Kambon, President of Onipa Psychological and Consulting Services, Past President of ABPsi (The Association of Black Psychologists)
Nataki Kambon, Spokesperson, DC Area Organizer, Strategic Partnership
Relationship Coordinator
Joseph C. Grant, Jr., Moderator, Ambassador of Arts & Culture, Bedford Stuyvesant and Northern Crown Heights
The event unveils LetsBuyBlack365's national agenda which takes a
wholistic approach to create economic empowerment through a model that integrates corporations, grassroots organizations, small businesses and individual consumers. National strategic partners in
manufacturing, distribution, national services, and the entertainment industry will attend. Alpha Office Solutions, Abibitumikasa.com – the African Language Institute and online university, ComproTax, All About Us, the Black Sustainability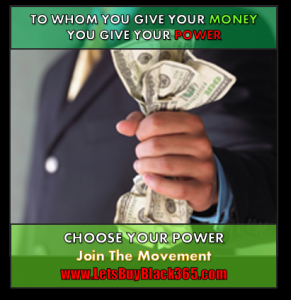 Collective and others will make bold announcements and commitments to empower Black communities. Also in attendance, will be members of the media, local business leaders, and other key community stakeholders.
The purpose of the event is to showcase the successful platform that is bringing Black-owned businesses and communities together and creating cooperation and unity. The forum poses a call to action for those who want to stop just talking about the problem and want to take action in this new solution for African Americans nationwide. This mission is currently underway primarily through a national online community and established and expanding local networks.
According to Black Enterprise Magazine, African Americans spent about $1.1 trillion in 2015. For Nataki Kambon, a spokesperson for the movement, "it's not about trillions. It's about each of us using
our own personal buying power to improve our own lives right now and the lives of my community and the next generation. Shifting the focus from the "we should" to the "I can" makes it an individual
call to action with collective benefits. This is a call to begin
building capacity in the community through leveraging knowledge and resources on the Black Star resource guide online so that everyone can have access to these resources," said Nataki.
The movement exists to shatter stereotypes and dispel myths that there are a lack of Black owned business and manufacturers. The national partnerships with businesses such as Freedom Paper Company, the first African American manufacturer of bathroom tissue & paper products is a great example of corporations that are committed to the initiative.
The five important goals of LetsBuyBlack365 are to;
1) empower Black people through committed black-owned businesses.
2) create vehicles to empower young people with opportunities for the present and the future.
3) strengthen consumer confidence in Black businesses 4) infuse
capital in targeted enterprises that can increase the availability of
sustainable jobs and career opportunities for our people and 5) be a
hub for dialog and action around economic empowerment. Overall, these targeted goals will help recirculate money within the community and create avenues for new business to grow and blossom.
For more information regarding LetsBuyBlack365, visit
http://www.letsbuyblack365.com or contact info@letsbuyblack365.com. To attend the press conference, contact Theresa O'Neal, Bee Season Consulting at tobeeseason@me.com or via phone at 646-801-7309.
Contact: Theresa O'Neal
Bee Season Consulting, LLC
tobeeseason@me.com
646-801-7309