Family Whispers of Love: Cherished Memories with Recipes Soul food uniting family and friends.
(Akiit.com) Jacklyn Milton narrates her miracles of love and all she has learned through her life as a wife, mother, grandmother, and caterer.  In her new book, she shares many whispers of love, cherished memories, rich family heritage, and recipes for meals that earned her raving accolades.
Maya Beecham, a poet, writer, and published author, could not hold herself back, she says of Ms. Milton's meals: "Each time I eat a meal by Ms. Milton, it compares to a symphony at its climax with varied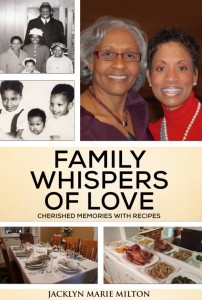 elements of just the right amount of diverse ingredients mixed with precision, flair, and love." She also praised the bestowment of the author's meal secrets in her book.
Jacklyn also shared in the book, how seven important women helped shaped her life, "My book is a memoir filled with cherished memories, recipes, and I also share how my foremothers inspired and motivated me throughout life's journey."
Readers of Family Whispers of Love will discover how soul food has a way of bringing togetherness with family and close friends, and how during such time of togetherness, stories are told, eating takes place, and memories are formed. The book also includes stories, songs, inspirational quotes, scriptures, and recipes that inspire love.
This book was published by Planting People Growing Justice and is now available here. You can also catch snippets and follow Ms. Milton's updates real-time on Facebook.
About Jacklyn Milton 
Jacklyn Milton is a wife, mother, grandmother, educator, and caterer. Cooking is a labor of love, and her love for cooking is inherited from her foremothers by watching them in the kitchen creating family meals that nourishes the mind, body, and soul. She continues in this legacy by cooking and baking for her family and friends. Her dinner table is always a place of merriment, fulfillment, and abundance.
###
Contact details: Dr. Artika Tyner, dr.artikatyner@gmail.com
Phone number: 651-303-0729
Website: www.artikatyner.com