Thy Other Jackie Robinson Story.
(Akiit.com) The Original of the Court Martial Indictment Charges Against Jackie Robinson, August, 1944
The universally recognized and celebrated defining moment in Jackie Robinson's life is the moment that he stepped to the batter's plate at Ebbets Field in Brooklyn on April 15, 1947. That Robinson attained immortality by breaking the color barrier in Major League Baseball. The annual rite of sports passage in the decades since is to mark the opening day of the baseball season with glowing tributes, remembrances, and much pageantry about the day, Robinson, and how it and he changed sport forever.
There a couple of new wrinkles to the story this year. The Philadelphia city council in March passed a unanimous resolution formally apologizing for the racist treatment Robinson got from the Phillies management and hotels in the city in 1947. And there is yet another documentary on Robinson, this time by filmmaker Ken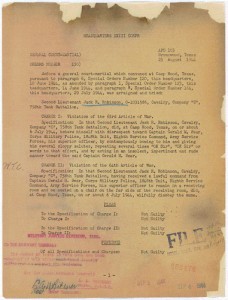 Burns.
But there's the other Robinson story that Jackie himself agonized and reveled in. This Robinson story started about as far from a baseball diamond as one can get.
For five hours on August 8, 1944, second lieutenant Jackie Robinson stood nervously before an all-white nine judge military jury panel at Camp (now Fort) Hood, Texas. He faced multiple charges in his court martial proceedings. His only real offense was that he had defied a segregation mandate. While he rode on a bus back to his base camp, he refused to move to the back of the bus as all blacks were then required to do. Though the army had reduced the charges against him to two counts including insubordination, a conviction would have meant his bounce from the military and possible imprisonment. Fate, and his fame as a star athlete and vigorous protest from the black press and the NAACP, was with him. After lengthy testimony, the second lieutenant was acquitted. But he was not completely out of the legal woods, because of his court martial he was barred from seeing action with his tank unit overseas.
Jackie Robinson never forgot that bitter experience. He talked often about it in years to come. He took special pride in taking a stand against injustice even though it could have cost him his freedom.
It was just that experience that insured that Robinson would not simply be Robinson the baseball player who broke the color barrier, an all-star, and a revered sport icon after his playing days were over. He became the consummate civil rights activist, and along the way ruffled a lot of feathers of those both in and outside of baseball.
In his immortal and provocative autobiography, I Never Had It Made, he pulled no punches in saying so: "I cannot stand and sing the anthem. I cannot salute the flag. I know that I am a black man in a white world. I never had it made." This is the other story Robinson told in his autobiography, and letters and columns in the New York Post and the Amsterdam News, and most importantly his tireless civil rights activism.
During the next decade, Robinson gave speeches, helped raise funds, and made generous contributions to the NAACP and the Southern Christian Leadership Conference. But in 1967, he resigned from the NAACP's board of directors accusing it of being "insensitive to the trends of our times, unresponsive to the needs and aims of the black masses — especially the young — and more and more they seem to reflect a refined, sophisticated, "Yassuh, Mr. Charlie, point of view." His criticism foreshadowed the identical charges made by dissidents that would nearly wreck the NAACP almost two decades later.
Like many then, Robinson at first regarded Malcolm X as an anti-Semitic, race-baiting demagogue and criticized his approach to racial problems. But in time he came to respect and admire Malcolm X: "Many of the statements he made about the problems faced by our people and the immorality of the white power structure were the naked truth."
He staked his career and reputation on making black economic empowerment a reality. He believed, "There were two keys to the advancement of blacks in America — the ballot and the buck. If we organized our political and economic strength, we would have a much easier fight on our hands."
In 1972, Robinson refused to attend an old-timers game and accused baseball owners of running "a big selfish business" for refusing to hire blacks as managers, coaches and front-office executives. At the end of his life he realized that many blacks had continued to lose ground and he said so: "I can't believe that I have it made while so many of my black brothers and sisters are hungry, inadequately housed, insufficiently clothed, denied their dignity, live in slums or barely exist on welfare."
This is the other Jackie Robinson story. The story that must be told and remembered as much if not more than the story of the Robinson on the baseball diamond.
Columnist; Earl Ofari Hutchinson
Official website; http://twitter.com/earlhutchins