Everything You Need To Know About The NFL Scouting Combine.
(Akiit.com) The NFL Scouting Combine is one of the most important events in the NFL calendar. But do you really understand what it's all about? If not, then below you will find all the information you could ever want to know.
What is It?
The NFL Scouting Combine is a showcase of football talent that takes place every year. The event lasts for a week, and it's held in Indianapolis at Lucas Oil Stadium. Young players are given the chance to show off their skills and their potential. In the past, these kinds of fitness tests performed by players had to be held on a case to case basis. If coaches and scouts wanted to get a closer look at a player, it had to be arranged privately.
This changed in 1982 when the Combine was first set up though.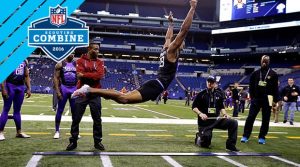 Since then, a set of tests is carried out which allows coaches and scouts find out more about young players. This gives them some extra knowledge on the players' abilities ahead of the next NFL Draft. The tests and evaluations include a 40-yard dash, vertical jump, broad jump, bench press, 60-yard shuttle and a Cybex test. You can find out more about these at http://www.thefootballeducator.com/who-will-run-the-fastest-40-yard-dash-at-the-2016-nfl-combine/.
What's the Purpose?
The purpose of the draft for players is to show how good they are. Turning down the invitation to the Combine would mean passing up the opportunity to impress powerful scouts and coaches. These players want to get drafted in the months ahead, so this kind of chance to impress is invaluable. If they didn't have this chance to show their skills, coaches and scouts would have less to base their decisions on.
There are some people who argue that the drills carried out have no real bearing on future performances. And this is something that NFL bosses are looking at and thinking about. But that doesn't change the fact that, for now, the Combine has a big impact on who is drafted by which teams. It's an annual event that is important to the careers of young professionals and the fortunes of teams and coaches alike. You can find out about some of the criticisms of the Combine at http://www.palmbeachpost.com/news/sports/football/some-critics-deride-the-nfl-scouting-combine-but-i/nL4rz/.
What it Means for Players' Careers
First of all, it's important to note that the NFL Scouting Combine works on an invitation-only basis. If players do not get asked to attend the event, then they will not be allowed to take part. This means that some players can have their dreams smashed before the Combine is even underway. And the pressure is really on those who do get through to the day of the Combine. They have a lot to gain by doing well.
Many promising young players have had their careers damaged by a poor performance at the Scouting Combine. It's a harsh environment, and failing to meet expectations on the day can have a huge impact. Some players do better than expected, and some do worse. These things are remembered, and they can affect the player's draft status and their future salary. Many professionals have been critical of the Combine because of the impact it can have.
Staff Writer; Gary Poole