BET Awards, hate speech inspires ol Liberals.
(Akiit.com) Actor Jesse Williams used his platform at the recent BET Awards to attack whites and promote lies, and he got a standing ovation for doing so.
Williams, who received the network's humanitarian award for his role in the Black Lives Matter movement, said that, "a system built to divide and impoverish and destroy us [blacks] cannot stand if we do."
He added, "We're done watching and waiting while this invention called whiteness uses and abuses us …"
"We know that police somehow manage to de-escalate, disarm and not kill white people every day, so … we're going to have equal rights and justice in our own country or we will restructure their function and ours," he said.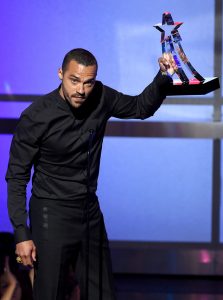 The majority black audience at the BET Awards enthusiastically applauded Williams' hate speech.
Yet when white pop star Justin Timberlake tweeted out that he was #Inspired by it, he was attacked on Twitter.
The singer – blamed for letting Janet Jackson take the fall for her Super Bowl "wardrobe malfunction" while the two performed together – tweeted, "I apologize to anyone that felt I was out of turn. I have nothing but LOVE FOR YOU AND ALL OF US."
Black racists hate whites – whether whites agree or disagree with them. It's actually worse if they agree or especially if they apologize, because deep down black racists know they're wrong and know whites are wrong when they fail to stand up to them.
Jesse Williams even questioned how much progress black Americans have made and whether they're truly "free."
"I don't want to hear anymore about how far we've come when paid public servants can pull a drive-by on a 12-year-old playing alone in a park in broad daylight, killing him on television and then going home to make a sandwich," he said, citing the deaths of Tamir Rice, Rekia Boyd, Eric Garner, Sandra Bland and Darrien Hunt.
Jesse Williams is a liar, and he's trying to incite hatred toward police officers. Here are the facts about these police-involved shootings.
Tamir Rice, 12, was killed in 2014 in Cleveland, Ohio. Tamir was shot after brandishing what turned out to be fake gun at police who were responding to calls about a man pointing "a pistol" at random people. For years, Tamir's parents have been in and out of jail for drugs, assault and domestic violence.
Rekia Boyd, 22, was shot and killed by off-duty Chicago police detective Dante Servin when he fired at a group of people during an altercation in a dark West Side alley in 2012. Servin's lawyers say he drew his gun and fired when Antonio Cross (Boyd's friend) pulled an object from his waistband and pointed it at Servin.
Eric Garner, 43, died in 2014 while resisting arrest by NYPD officers. Garner weighed 350 pounds, and his death was attributed to compression to his chest and bad health. Garner had been arrested 30 times since 1980 on charges such as assault, resisting arrest, grand larceny and selling illegal cigarettes.
State trooper Brian Encinia arrested Sandra Bland, 28, in Waller County, Texas, in 2015 following a traffic violation. During the stop, a belligerent Bland is seen on video resisting and assaulting the officer. Bland later hanged herself in jail. Despite claims of foul play, a motion-activated camera outside her cell recorded no movement in the hallway for 90 minutes before jailers found her dead. An autopsy ruled Bland's death a suicide and found no evidence of a violent struggle.
Darrien Hunt, 22, was an "eccentric" biracial man who was shot and killed by police in Saratoga Springs, Utah, after he swung a Samurai sword at officers.
Jesse Williams also honored "black women, in particular, who have spent their lifetimes dedicated to nurturing everyone before himself or herself."
If black women are doing such a great job of nurturing, why are black youth so angry and violent? Why are they attacking whites? What type of "nurturing" are these black women doing?
Despite all the lies told by Williams, the "restructuring" that he talked about is real. U.S. Attorney General Loretta Lynch just ended a six-city tour of police departments. Lynch is reportedly looking at how police use technology to prevent crimes and interact with residents, which is cover for seeing how the Obama administration can take control of local police departments and social engineer them to appease Black Lives Matter.
Recently, I had Heather Mac Donald on my radio show to discuss her new book, "The War on Cops." Heather explained the "Ferguson Effect," a term she coined to describe how some police departments have retracted after the intense national scrutiny on policing. Her research uncovered that police are making fewer arrests for fear of being accused of misconduct. As a result, after a 20-year drop, the homicide rate in America's inner cities is skyrocketing again.
It doesn't matter how many police departments Obama and Lynch "restructure," as long as black children are growing up in homes without fathers and are subject to angry black mothers and liars like Jesse Williams, they'll continue to feel like victims and blame others for their failures.
Columnist; Rev. Jesse Lee Peterson
Official website; http://twitter.com/JLPtalk