College Politics: Are Separate Dorms a Good or Bad Thing for Black Students?
(Akiit.com) The announcement that California State University, Los Angeles agreed to the demands of black student groups at the school to establish separate dorm housing for blacks ignited the predictable furor. The critics say it's wrong, dangerous, and sends the horrible message that segregation is OK and, even more appalling, paid for at a California public university on the taxpayer dime. After all, this is 2016, liberal California and not 1956 segregated Jackson, Mississippi.  The backers of separate housing say it's much ado about nothing since other campuses have "themed housing." That's the chic euphemism for separate housing and space for black, Hispanic, and other minority students. And besides, so the argument goes, separate housing can be a good, even a necessary thing, to give black students a safe culturally comfortable environment and reinforcing environment to live and learn in.
These are ancient arguments on both ends; arguments that I as a California State University, L.A. graduate and one of the founders of the Black Student Union at the school in the late 1960s, am well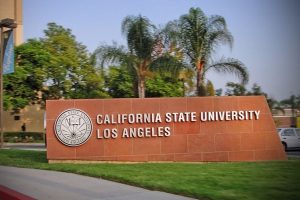 familiar with. We made the same arguments then when we demanded a separate black studies program, a separate black section in the campus newspaper, and a separate assembly space on the campus. There were no dorms on the campus then. But if there were dorms on campus then we may well have demanded separate living space in them too
This was the era of the black is beautiful and black empowerment movement and these demands came with the racial turf of the day. We had no illusions even as militant, student advocates, that segregation which is legally, socially and culturally imposed on African-Americans was a good thing. This was certainly the case with housing segregation. Many of us lived in racially segregated neighborhoods, by requirement, and we saw the damaging effects of that in terms of miserably failing underserved, and grossly underfunded schools, inadequate neighborhood services, crime and poverty and neglect. But we believed that once we were on a college campus, things could be different, and that it was absolutely imperative that the university play a big role in reversing some of the economic and social damage of segregation by providing special programs, space, and support for African-American students.
The university was and should be in our view a safe, student friendly place to learn, grow, and provide the much needed and, in times past, lacking higher education skills to prepare black students for successful careers in the professions and business. The school, the community and society would all benefit from this. This is a question that presents an especially thorny challenge given the figures that show that black students are still grossly under-represented at many colleges and universities. And this is compounded by the alarming figures on the higher drop-out rates at some colleges for black students. Clearly, the challenge is not simply getting more black students on college campuses but keeping them there to get their degrees.
Despite that challenge, ethnic studies programs, increased aid, grant and scholarship programs for minority students, affirmative action initiatives, and a marked increase in black faculty and administrators has become a permanent fixture on college campuses. This was a direct by-product of our, and other student protests, for black student empowerment at Cal State L.A. and many other universities in the 1960s.
It did not come, however, without another cost; that being backlash. The cry was that black and minority students were demanding and getting entitlements, special privileges and treatment at taxpayer expense, and worse at the expense of white students. Conservative advocacy groups pounded university trustees and state legislatures to cease and desist bowing to threats of disruption and pandering and catering to black student demands. There was the rash of anti-affirmative propositions, initiatives, rulings, legal prohibitions, and court challenges, up to and including cases that wound up on the docket of the Supreme Court by white students at the University of Texas and Michigan. They claimed that reverse discrimination and exclusion of white students in admissions in preference for black and minority students. This has been the subject of fierce, and contentious debate, and still is.
The debate over separate black housing at Cal State L.A. is in reality a continuation of that same debate over what and how college resources and programs can best be used to serve the needs of black, minority, and ultimately all students. Separate housing may not be the panacea to enhance learning for black students. In fact, that they have to even ask for it is our tragedy. But there is no evidence that it is detrimental to learning, or harmful to any other group. It's a huge stretch to claim that it is just another step back to the evil of the segregation past. This kind of racial scare mongering promotes the very divisions that we all should want and strive to end.
Columnist; Earl Ofari Hutchinson
Official website; http://twitter.com/earlhutchins