Ole Africans vs. African-Americans – A White Supremacist Success.
(Akiit.com) I had a recent conversation with a young, intelligent, hardworking African-American during which he expressed deep hostility towards Africans. When asked why he felt that way, he told me of two incidents that occurred when he dated a young African woman from Nigeria and another from Ethiopia.
The Nigerian's father exploded when she brought the young brother to her home. He demanded that the young man leave immediately since he didn't want his daughter involved with any African-American.
When the young Ethiopian woman took him to an Ethiopian club, she was angrily pulled aside by an Ethiopian male and asked loudly,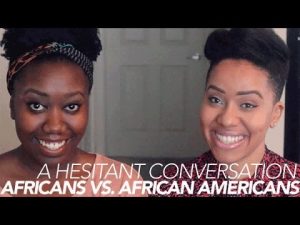 "Why you bring him here?" Again, he had to leave immediately.
I told him that I understood his feelings, having myself had several run-ins with Africans who spoke with hostility and contempt about African-Americans. However, I continued, African-American are not innocent when it comes to dealing with Africans. On numerous occasions I have heard some African-Americans speak with contempt about Africans, even going so far as to call them "jungle bunnies."
The image of Africa for too many African-Americans comes from Hollywood films and from American television, newspapers and magazine reporting. The Hollywood films often depict Africans either as scantily clad villages or providing some kind of service to "superior" White folks. The journalistic reporting much too often can lead readers to believe that one third of Africans are living in dire poverty, another third are sick or dying from AIDS and the final third are killing each other in endless conflicts. I have actually heard some African-Americans wonder if there are cities or universities in the continent.
I told the young man that such attitudes as mentioned above by Africans and African-Americans are among the most unfortunate victories of the proponents of White supremacy. I also told him that when the average person of European descent sees a Black man or woman, he doesn't care if he or she are from Lagos, Nigeria, Ethiopia, Harlem, USA, Kingston, Jamaica or Rio de Janeiro, Brazil. All that person sees is a Black person who he has been told is inferior to him or her.
White politicians, educators and business persons also see a Black man, but they are clever enough to know that one of the best ways to keep the upper hand over all Black people is to discourage unity among them by any means necessary. So they use psychological toxins to encourage Africans to believe that they are better than African-Americans and African-Americans to believe that they are more civilized than Africans. Way too many Black people have been infected by these toxins.
It is time for serious Black folks from throughout the the world to develop a psychological inoculation against this insidious, debilitating infection. It can be done, we just have to put our time, energy and resources into it. If we don't, the temporary success of the proponents of White supremacy will become permanent.
Columnist; A. Peter Bailey
Official website; http://apeterbailey.webs.com/