It's Hard Work: The Job In Finding "The Right Person For The Job".
(Akiit.com) If you are in the postition where your business is doing so well that you are upgrading yourself from a one man band to hiring employees, it can be a bit of a minefield. Making that leap in the world of companies and startups vying for their piece of the pie, you are only as good as the people you take on, which is why it is so imperative that you get the right people on board, and here are some tips to get you on the right track.
The small company does have many advantages over the larger, more faceless ones. It can be tempting to try and upgrade your business to a huge company as soon as you can, but statistics show that people are actually more likely to leave a larger company to go to a smaller one. The reason someone would jump ship from a large organisation in favor of a small one would not be because of a pay rise, it would be the challenge that piqued their interest. So when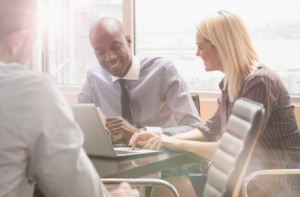 you are looking for the right people, it is very easy to be put off by people that have big business names strewn across their CV. In fact, these could be the type of people that will stand by you in the long run!
Making a good framework out of a team is very important in the early days of a company. If you have made the change from just working for yourself to a team, this will have crossed your mind. If not, you may need some time to rethink this, or get help from virtual management for your sales team, because it could be a few years down the line where you will look back and realise how near-sighted you were.
If you look a few people instead of looking for one person, this will work wonders. It's not just the quality over quantity aspect. It can be a bit on the overwhelming side to receive hundreds of job applications, so take the time to pick a few that stand out for you and focus on these rather than going through each applicant.
When looking for a team member, the "it's not what you know, it's who you know" adage comes in handy here. The reason this works so well is that it saves companies hundreds of hours looking for the right person. If you employed someone and they recommended another person who would be a great fit, then this is a great time saver. And if your employee that did the referring had a skill for hiring the right people in the company, they can become your recruiters, which will utilize your resources incredibly effectively.
And finally, when it comes to hiring the right person, sometimes it is a fact that the people make the job. Happy workers are productive and help to reduce workplace problems. Sometimes if the person is a right fit for the company, but they are not skilled in one of the areas, then paying for a training day is a worthwhile investment in the long run.
Staff Writer; Karl Wells