Alexandria Washington crowned Miss Black Florida US Ambassador 2017.
(Akiit.com) The Miss Black US Ambassador Scholarship Organization is pleased to announce the crowning of one of our newest state ambassadors. Alexandria Washington was recently named Miss Black Florida US Ambassador.
The Miss Black US Ambassador and Miss Black Teen US Ambassador Scholarship Pageant LLC in partnership with the GE Institute Foundation Inc. exists to give a once in a lifetime opportunity for young African American women to serve as an ambassador of change and to encourage, empower and enlighten, communities states and nations.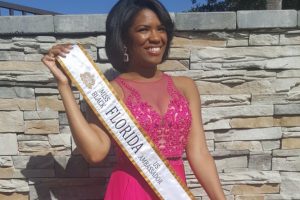 These young women are a rising voice in the community that seek to make a difference, by providing educational forums and events that focus on health disparities, poverty, violence and major issues plaguing the African American community.
About Miss Black Florida US Ambassador, Alexandria Washington
Alexandria Washington is a second year Doctor of Public Health student at Florida Agricultural and Mechanical University. She received her Bachelor in Health Science and Master in Public Health from Florida Agricultural and Mechanical University also. A natural born servant leader, Ms. Washington currently serves as the Surgeon General for the Student Government Association for her University, a Young People 4 Fellow, America Walks Fellow, and an Education Ambassador for Bright Pink. This year, her expertise and dedication to her community resulted in her being named one of Tallahassee Democrat's "25 Women You Need to Know" and a spot in class 4 of the Tallahassee Chapter of New Leaders Council.
Utilizing the platform "Representation Matters" Ms. Washington will work to ensure that marginalized communities always have a seat at the table and voices are heard when decisions are made. This three part campaign will be achieved through raising awareness of health inequities, leadership development seminars, and the promotion of leadership opportunities on the local, state, and national level.
She is currently seeking sponsorships for the National Pageant that will be help July 16-24, 2017, in Orlando, Florida. If you or you business is interested in being a sponsor or would like to schedule a guest appearance please contact her directly at ajwash22@gmail.com.