Pros and Cons of Starting a Business While Unemployed.
(Akiit.com) Starting and successfully running a business is one of the finest accomplishments of life. It, however, is far from easy. If your business is product oriented, you have to pay for inventory. In the early stages of business development it is hard to pay yourself a living wage, but when your business is on its two feet, up and running, the business owner will be richly rewarded.
There are two basic types of small businesses; product oriented and service oriented. There is a certain amount of safety in starting a service business that does not have an inventory to resupply. Let's say that you have experience in the installation of kitchen cabinets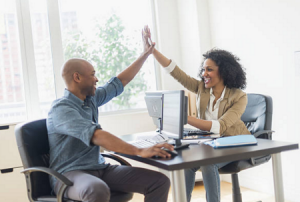 and want to set up a business as an installer of kitchen cabinets. Here there is a level of safety, especially if you know the skills required to do the work.
Pros and Cons of Starting a Business While Unemployed
* Pros -You are ready to work and do not have to go through the sometimes harrowing process of quitting your job and dealing with any conflicts of interest clause in your contract.
* Cons – Usually after being let go from a job your confidence is at a low level. You have to judge when you are ready to start a new chapter of your life.
* Pros – If you have the tools needed for a new service business and transportation, you are nearly ready.
* Cons – Cash flow is a major concern in any new business. Banks and other lending sources are hesitant to offer businesses that are starting up loans without a job or an income source. This question was recently asked on the Quora website, and the response was, "What do you have to lose." See Quora for this particular questions and other answers to many technical questions.
* Pros – This is a double-edged sword question. How will you successfully manage your time when you are the boss. You will have a new sense of freedom. Do not misuse it. It is important to set goals and have a mission for your business. If your business succeeds, you will enjoy going back and reading these early goals and your first mission statement. Realize that businesses must grow and evolve. If you have continued reading this far, you are on the super highway to business success. But before you do make two important lists. On the first list add up your current assets, (car, motorcycle, home) and also list your dealings with bankers or a credit union. All assets and debts must be mentioned on this first list and also include the dates that active loans will be paid off. You 401k should be listed as well as any military retirement owed you. On the next piece of paper list all of your positive personal traits. Handsome, popular people succeed in life more so than loners who need dental work.
Visit the local businesses working in your field and talk to those employed in your targeted business. Remember when interviewed they may bend the truth to protect their share of the industry.
Your new business will depend on sweat equity and with a break or two you will succeed.
Staff Writer; Charles Ross