2017: NAACP Announces New National Board Members.
(Akiit.com) The NAACP announced the six newest members to its 64-member National Board of Directors. Elected during the Association's recent annual board meeting in New York, the group includes a variety of leaders with a diversity of religious backgrounds and extensive experience as community builders, activists and stalwarts of civil rights.
"We believe the recent additions to the National Board of Directors only expand the effectiveness and reach of the NAACP to continue to ensure that the hard-won protections for civil rights do not become a thing of the past," said new board Chairman Leon W. Russell. Mr. Russell, who previously served as Vice Chairman of the Board was elected Chairman at that same meeting. Roslyn M. Brock, who was elected to a new three year term on the Board, was unanimously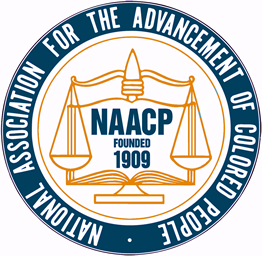 named Chairman Emeritus after declining to run for reelection as Chairman. Mrs. Brock guided the organization, as Chair for seven years. Board member Derrick Johnson, President of the Mississippi State NAACP was elected to serve as Vice Chairman.
The NAACP Board of Directors is responsible for guiding the organization, establishing public policies which maintain consistency and purpose for its over 2,200 branches within the United States and abroad.
"Those accomplished individuals elected to join our prestigious board are now partners to a historic legacy of positive social change, civic engagement and activism," said NAACP President and CEO Cornell William Brooks. "These new board members bring an amazing wealth of achievement, accomplishment and influence on issues from civil rights to religion to community-building and leadership. We are honored by their presence and welcome them into the inner family of the nation's oldest, largest and boldest civil rights organization."
The new board members include:
Akosua Ali: Mrs. Akosua Ali is the President of the NAACP Washington, DC Branch and one of the youngest Presidents of an NAACP Branch throughout the nation.  She works to ensure political, educational, social, and economic equality of rights of all persons and to eliminate racial discrimination.  She leads the implementation of programs administered by 20 standing committees, including Climate, Criminal Justice, Economic, Education, Finance, Fundraising, Health, Housing, International Affairs, Labor, Legal Redress, Membership, Political Action, Public Relations, Religious Affairs, Veteran Affairs, Women in NAACP (WIN), Young Adults, Youth Works, and the Academic, Cultural, Technological and Scientific Olympics (ACT-SO). President Ali has led the NAACP in processing over 300 discrimination complaints, since 2010.
Rev. Wendell Anthony: Reverend Wendell Anthony is a certified social worker with the state of Michigan. He became pastor of Fellowship Chapel in December of 1986 following the passing of Rev. James E. Wadsworth Jr. and was installed as Senior Pastor in February of 1987. Reverend Anthony is currently serving his 11th term as President of the Detroit Branch NAACP, the largest unit in the nation.  Currently he serves as a member of the Board of Trustees for the General Retirement System for the city of Detroit, a $3 billion dollar pension fund.  Rev. Anthony is also on the Board of Directors for First Independence Bank.  He is the founder of the Fannie Lou Hamer Political Action Committee, a grassroots community activist organization supporting issues and candidates both locally and nationally.
Raoul Cunningham: Raoul Cunningham began his career in civil rights work as a member of the National Association for the Advancement of Colored People Youth Council at age 14, helping with voter registration. His first nonviolent direct action was picketing Louisville's Brown Theater, which would not honor the tickets of young black students who wanted to see Porgy and Bess. He would later help desegregate lunch counters in Louisville and become an activist at Howard University and has been involved in government and politics ever since, interweaving civil rights, nonviolence, and better-government issues into his own efforts to get more people who are committed to racial justice into the electoral process."
Rev. Dr. James C. Perkins: The Rev. Dr. James C. Perkins has served as pastor of Greater Christ Baptist Church in Detroit, Michigan for 33 years. He is the author of Building Up Zion's Walls: Ministry for Empowering the African American Family and Playbook for Christian Manhood: 12 Key Plays for Black Teen Boys, published by Judson Press (Valley Forge, Pennsylvania) and other writings. In 1992, he founded the Fellowship Nonprofit Housing Corporation as a vehicle for community economic development.   In the spring of 2006, Providence Place was constructed. This $10 million development provides 50 single-family homes for low and middle income families.
Rabbi Jonah Pesner: Rabbi Jonah Dov Pesner serves as the director of the Religious Action Center of Reform Judaism. He has led the Religious Action Center since 2015. Rabbi Pesner also serves as senior vice president of the Union for Reform Judaism, and named one of the most influential rabbis in America by Newsweek magazine.  He is an inspirational leader, creative entrepreneur and tireless advocate for social justice. Rabbi Pesner's experience as a community organizer guides his pursuit of social justice. He has been a principal architect in transforming the URJ and guiding the Reform Movement to become even more impactful as the largest Jewish denomination in the world.
Rev. Dr. Gina M. Stewart: The Rev. Dr. Gina Marcia Stewart is a pastor, preacher, builder, mentor, adjunct professor, and daughter of Christ Missionary Baptist Church in Memphis, Tennessee.  She has led the congregation of Christ Missionary Baptist Church since March 1995. She is the founder of Greater Works Inc. a non-profit organization devoted to philanthropy and ministry development. She is also a member of Delta Sigma Theta Sorority Inc.  In September 2015, she released her first book entitled We've Got Next: HERstory in HIStory.
###
Founded in 1909, the NAACP is the nation's oldest and largest nonpartisan civil rights organization. Its members throughout the United States and the world are the premier advocates for civil rights in their communities. You can read more about the NAACP's work and our six "Game Changer" issue areas here.