Purged; Obamacare now Trumpcare.
(Akiit.com) Being possessed by an abstract, non-linear psychological construct has always led me to search for the truth which may rest in both the sublime and the ridiculous.  Experience has shown me that even in the most unlikely scenario, a kernel of truth or reality may exist or have room to grow.
Such is the case with the movie franchise, The Purge, and our contemporary society — it's a case of 'art mimicking life.'  The Purge movies reflect a social callousness that is eerily familiar to the current action by the US House of Representatives. In a 2016 Los Angeles Times review of The Purge: Election Year, writer Justin Chang gives the following description:
"The end is nigh in "The Purge: Election Year." — that cruel annual rite that, for one night only, allows all Americans to vent their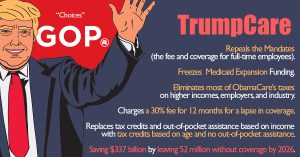 bloodlust in the name of continued national health and prosperity."
In those movies, once a year, for twelve hours, lawlessness abounds and the weak and vulnerable are slaughtered.  With the  passage of Trumpcare, the House has taken a step toward a similar victimization of real-life vulnerable Americans.
Passage of Trumpcare establishes a healthcare agenda that stands in stark contradiction to the principles of Obamacare.  Although the scope and details of Trumpcare remain obscure and the contradictions are too numerous to discuss in full in this short piece, the most controversial areas of comparison with Obamacare relate to pre-existing conditions, high-risk pools, tax credits, and older adults.
The most popular aspect of Obamacare is the provision guaranteeing coverage to persons with pre-existing conditions.  Obamacare restricts insurers from refusing coverage and caps premiums for pre-existing conditions.  Different rates for identical plans could only be established on the basis of age, tobacco use, geographic location and number of persons covered.
Under Trumpcare, states would be able to apply for waivers that allow insurers to set far-higher rates for those with pre-existing conditions.  Potentially premiums will be raised to prohibitively high rates that would prevent the purchase of any insurance.
As with the use of any insurance instrument, those with a greater likelihood of illness would be placed in high-risk pools. Ostensibly, Trumpcare would assure coverage of those in high-risk pools with supplemental funding of premiums. Under the plan passed by the House, $8 Billion would be set aside for supplemental funding for those states requesting waivers.  Unfortunately, several estimates suggest that to minimally fund this requirement, an additional $130 Billion would be necessary over a five year period.
I pray the celebration by many who admit they haven't even read the Trumpcare details will sooner or later regret their decision to pass Trumpcare at all cost. It seems that some of their constituents do more reading than their Representatives.  There is no doubt the constituents will know what's in the bill that hurts them, and as we have seen during past Congressional recesses, constituents will resist and persist. The sad thing is that during the last recess, as constituents pleaded for keeping Obamacare at those town hall meetings, some Representatives agreed to vote in their best interest as they heard the sad stories of what repealing Obamacare would mean. These same Representatives went back to Washington and voted against their constituents!
In the aforementioned movie review, Chang offers
"…rest assured that "The Purge: Election Year" is never in danger of letting you confuse the haves with the have-nots. So long as the right people wind up dead, why not keep it going?"
Once again Republicans have shown their true colors and promoted a bill that threatens the healthcare of 24 million of our most vulnerable, while giving massive tax relief to the 1%.  The right to healthcare established under Obamacare is now threatened with the replacement of Trumpcare's "die quickly or suffer."
Columnist; Dr. E. Faye Williams
Official website; http://www.efayewilliams.com/