3 Benefits of Having Your Television on a Trolley Stand.
(Akiit.com) Televisions are commonplace in almost every office space. Because of this, not only has there been a steady stream of new high-definition audio and visual products in the market but also items that provide a means to support them for our comfort as well as viewing pleasure. Generally, stationary stands and wall mountings have been the popular methods of approach, but more and more people are going for the mobile and arguably more practical alternative. Here are just a few benefits that you can take advantage of by using a trolley instead.
Mobility
It comes as no surprise that mobility comes first on the list of benefits that using a trolley yields. Gone are the days where it would be a time-consuming and tedious experience to move a television set from one area to another in the office. By having a trolley-based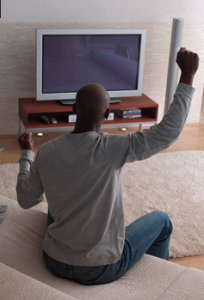 stand, all it demands is a little effort and some finesse. In fact, you won't even need a second or even third pair of hands to relocate the TV. It literally gets rid of the heavy-lifting usually involved with the task of carrying the equipment and should take no more than a couple of minutes of work to accomplish.
Ease of installation
Unlike wall-mounted installations, a trolley stand requires very little to be installed correctly. You won't need to drill holes for your mounting brackets or painfully try to attach the various cables and wires to the television in a tight space. Even for those who may not be too familiar with the equipment or aren't tech-savvy, a trolley makes the process much more straightforward. Certain models even have spaces within them to keep the cables from being exposed or dangling dangerously around the TV.
Aesthetics and flexibility
Apart from our viewing pleasure, one of the main reasons why many people often opt for the wall-mounted approach is that it looks good and gives an air of luxury in the area. Despite the utilitarian and minimalistic approach of a trolley, there are plenty of options available that keep it aesthetically pleasing. There are different variations available too that can support more than one screen as well as other peripherals and systems such as players and projectors or other consoles.
It's hard to go wrong when using a trolley as your TV display stand. With the multitude of advantages that it yields and the comprehensive and wide selection of variations to choose from, it comes as no surprise that they're gaining a lot of steam in the market. It makes your AV equipment easy to move, easy to install and easy to replace if the need ever arises or if you find a new model that strikes your fancy.
Staff Writer; Ron Short