How To Equip Your Construction Workers With The Best On-The-Go Tools.
(Akiit.com) Working in the construction industry is not an easy feat. From working in areas where it is often unsafe to carry out labour without a proper qualification in place to having to lift heavy machinery and materials, no wonder workers in the construction industry are some of the most stressed out in the professional world. There are many different items of equipment that construction workers need to be confident in working with, from heavy machinery to the best digital calipers out there.  
While working in the construction industry can provide someone with an excellent salary, this also comes at a high price. Workers in this profession often have to get up extremely early in order to make their way to the site in which they work in good time. While this means that they could also be finishing their working day relatively early, it still means that they need to be individuals who are prepared to wake up early in the morning if they wish to become construction workers.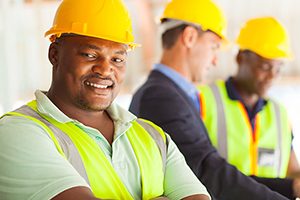 Health and safety is another crucial thing to consider, and if you want your employees to feel satisfied with their jobs, you will need to ensure you provide them with the best tools for them to carry out their work.
Here's how.
Invest in excellent and robust helmets
We already mentioned that construction sites can often be hazardous areas in which to work. While it won't always be possible for you to eliminate danger in these, there are measures you can take in order to equip your workers with the tools they require to protect their health and wellbeing. Safety helmets are, therefore, of paramount importance when it comes to ensuring your employees are safe and working under optimal conditions. Helmets help individuals working in the construction sector protect their heads against injury and increase their chances of survival in the case of an accident. 
Get them a good welder they can carry around
If your employees work with metal, chances are they will need to weld this from time to time and often off-site. This means they need to be able to have access to proper equipment for them to be able to carry out welding tasks when they are not working in a construction area. The good news is there is an answer to this, as there are tools out there that will enable your workers to do the job wherever they have been relocated to. MIG welders are great equipment that is used to weld many different types of metal: carbon steel, stainless steel, aluminium, magnesium, copper, nickel, silicon and bronze, for instance. Invest in this 220v MIG welder in order for your employees to be able to carry out a top job when off-site.
Provide them with vests
Safety vests are a must in the construction industry, as not only do they allow other individuals to know that the person wearing it is a worker, but they also prevent employees from being hit with tools and/or materials when these are being carried by other members of staff due to the vests' reflectant nature. If you want to ensure your workers are safe when working off-site, vests will provide you with an excellent solution.
Staff Writer; George Moore