Bachelor's Degrees at Your Own Pace.
(Akiit.com) In the past, obtaining a bachelor's degree in any field of study typically required many hours spent on a physical college or university campus. While this in-class learning experience was beneficial in that it provided one-on-one instruction, it also meant that students had to adjust schedules in order to accommodate learning. This generally meant that students would be in difficult positions with work and family obligations, and unfortunately, this process could affect the learning experience.
Thankfully, today, online learning is a very viable and affordable alternative that provides students with the ability to take classes and earn a bachelor's degree on their own schedule. Earning a bachelor's degree online can also be less intimidating for students who don't necessarily thrive in a live classroom environment. People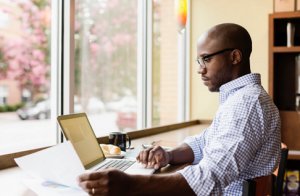 who face ailments such as anxiety, depression, or post-traumatic stress may actually find the online learning environment to be much more suitable when seeking a bachelor's degree.
Learning at Your Pace
It seems that everyone is busier than ever these days, and unless you're a traditional university student, this means that you likely don't have time to attend traditional on-campus classes in order to earn a bachelor's degree. The good news is that you can still receive an online bachelor's degree while learning at your own pace while still maintaining personal and professional obligations.  Many people find online learning very easy, while others benefit from checking out things like the Infinity Dish statistics and tips on online learning to encourage them and help them to better their learning.
Through online classes, you have the ability to review course material, including audio and video content, when it's convenient for you. Whether you're a working professional, a stay-at-home parent, or someone who simply wants to further their education on your own terms, online learning provides solutions. Many online learning courses today allow for very flexible scheduling, providing students with the chance to review lectures and more from the comfort of their homes after work, on the weekend, or whenever the time is right. This also offers the additional benefit of being able to take part in classes in small doses. Students can pause video and audio or pull up course material on-demand when the time is right.
Importance of a Bachelor's Degree
Today's job market is more competitive than ever and having a bachelor's degree can be the difference between being hired and having your application left "on file". Within the past few decades, employers have begun weeding out applicants based on education level, and this can place you in a difficult spot without a bachelor's degree. In fact, when comparing two qualified applicants, having a degree could be the difference between being considered or not.
The good news is that most online bachelor's degree programs are affordable and can easily fit into your schedule. After obtaining your degree, you'll be able to stand out from the crowd when job searching or even when seeking internships. A bachelor's degree is also helpful if you plan to climb the corporate ladder or if you decide to seek out higher education levels.
Staff Writer; Doug Jones