Film Review; Pacific Rim Uprising.
(Akiit.com) In case you were wondering if British Actor John Boyega had any star power outside of the Star Wars franchise, he does. He uses it to carry this likable sci-fi/action/fantasy film on his shoulders.
Pacific Rim Uprising is the kind of matinee movie you can send your tweens and teens to and not be worried about the violence or entertainment value. The action is harmless, the story is compelling, and the special effects are on par with Boyega's talent.  Steady, bold and doesn't show any obvious seams.
This sequel follows on the heels of the 2013 Pacific Rim, which was a futuristic war movie that pitted humankind against ginormous sea monsters named Kaiju, who entered earth through a portal in the Pacific Ocean. To fight them, gigantic human like "mechas," that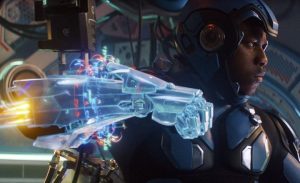 looked like robots, were invented. These killing machines, aka "Jaegers," were run by two pilots, who were positioned in the heads of the colossal warriors and used their minds and motions to control the huge droid's fighting abilities. One of those pilots was the legendary Stacker Pentecost (Idris Elba).  It should be noted that Oscar-winning director Guillermo del Toro (The Shape of Water) directed and co-wrote the original film.
Years later, Pentecost's son Jake (Boyega) has lost his way and become a scampish hustler/ thief, ripping off clients looking for war relics and weapons.  He finally changes the direction of his misguided life when his long-lost sister Mako Mori (Rinko Kikuchi, Babel) shows up and talks him into re-joining the Pan Pacific Defense Corps (PPDC), the armed forces dedicated to fighting the Kaiju. Reluctantly Jake, and a 15-year-old vagabond/hacker named Amara (Cailee Spaeny), who rebuilt a Jaeger from junk parts and wound up in jail with Jake, join the new group of pilots in training.  He is a co-leader with his old arch rival Lambert (Scott Eastwood, The Fate of the Furious), and she is the youngest recruit. And wouldn't you know it, the Kaiju are back, threatening humankind's extinction with help from some inside saboteurs.
It doesn't take a fortune teller to figure out where the storyline is going. Good versus evil.  Fight to the finish. Hurdles and mayhem along the way. That's the basic formula for any good sci-fi-action-fantasy film.  The trick is getting the elements right, creating engaging characters, peppering the dialogue with humor and irony and building the proceedings to a crescendo worth waiting for. To their credit, writers Steven S. DeKnight, Emily Carmichael, Kira Snyder and T.S. Nowlin don't miss a trick. The outcome may be predictable, but getting there is not. There are betrayals, rivalries, realignments of loyalties and punchy conversations often delivered with deadpan humor. The movie is fairly entertaining from start to finish.
Filling Guillermo del Toro's shoes, is not an easy task, but for all practical purposes, director Steven S. DeKnight (Netflix's Daredevil, STARZ's Spartacus) is up to the challenge. He keeps the actors animated, stages scenes well, choreographs fight scenes like a champ and guides the film to a fitting conclusion. He, along with editors Zach Staenberg, Dylan Highsmith (Star Trek: Beyond) and Josh Schaeffer, keeps the footage rolling at a good pace.  Not breakneck speed, but with a rhythm that doesn't falter.
DeKnight's efforts are greatly augmented by crystal clear cinematography courtesy of Dan Mindel (Star Wars: The Force Awakens), provocative production design by Stefan Dechant (Kong: Skull Island) and eye-catching special effects (Zoilo Abad animatronics: Weta Workshop; Victoria Arias, legacy effects). In your mind you know all the creatures on view are completely fake, but on-screen the visuals are so graphic, even in IMAX, that you're sucked into the reality of the characters' situations, dilemmas and battles—like it or not. That's the mark of a smart, perceptive and able tech crew. That's the kind of production support that was sorely lacking for Ava DuVernay's A Wrinkle in Time.  Hard to make a captivating fantasy film if your production team is half-assed.
Back to Boyega. The characters he played in Star Wars: The Force Awakens, Star Wars: The Last Jedi and Detroit had lapses in judgement and confidence. In this film, though first introduced as a wayward protagonist, once he sets his sights on fighting the good fight, nothing deters him. You can view the determination in his face, see it in his swagger and hear it in his stalwart command of the dialogue. His persona is dominant in a way that blows the rest of the cast off the screen. He is the leading man.
Boyega's empowering performance gets key support from his young almost equally feisty sidekick, as played by Cailee Spaeny. You never doubt her grit, nor that this kid could be so brave. Rinko Kikuchi, Scott Eastwood, Adria Arjona, Charlie Day (Horrible Bosses), Burn Gorman, Karan Brar (TV's Jessie) and Tian Jing (Kong: Skull Island) fill out an international, multi-ethnic cast that should help bring people to the box office worldwide.
If you're looking for Shakespeare, this isn't it.  If you're looking for Stars Wars, this isn't it. Nor is it Black Panther. But, if tweens, teens and twentysomethings want to venture into a highly-combative, high-tech future world, they can jump on board this roller coaster that's running on the star power of John Boyega.
Columnist; Dwight Brown
Official website; http://DwightBrownInk.com