Students Of Color Need To See Their Own Reflection.
(Akiit.com) I spent most of my first year of grad school sitting in the back row of class with my hood up. There were nearly 40 of us in the cohort. Two were Black.
My hoodie was an act of silent dissent. Today, I completely understand when my students want to do the same, even with me in front of the room. Academia and public schools are spaces where people of color often feel underrepresented, unwelcome and unheard.
From third grade through high school, I was a student in a series of neighborhood public schools. Afterward, I went to community college and then on to a public liberal arts college where I earned my bachelor's and eventually my master's degree. Each phase in my educational journey shared two characteristics: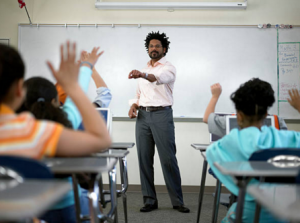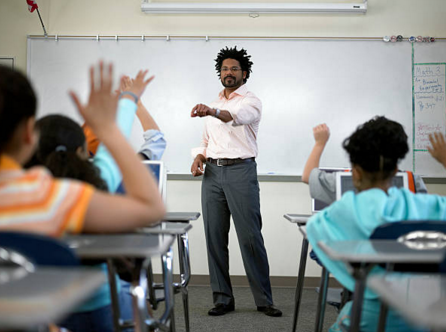 The further I progressed, the fewer Black and Brown classmates I had. As I progressed, regardless of the demographics of the student population, the faculty and administrators were uniformly nearly all White.
That needs to change.
An organization I am part of, the National Network of State Teachers of the Year, recently released videos designed to provoke conversations that will lead to this kind of change. Called Courageous Conversations About Race in Schools, the videos provide an effective starting point for real discussions that should be happening in schools-particularly in colleges and universities-across this country.
Research tells us that upwards of 80 percent of U.S. teachers are White. Different research tells us that nearly 80 percent of teachers are female. Obviously, those Venn diagrams overlap in a largely White and female workforce.
At the same time, because of higher birth rates among immigrant populations and the "mysterious phenomenon" of disproportionately high numbers of White children in private schools, the majority of the population of students in public school are students of color, and those numbers are headed even higher, based on enrollment numbers in lower grades.
Schools systems need to do a better job of attracting and retaining effective teachers of color. Students of color need to see more people of color in positions of expertise and authority, and teachers need to be conversant and literate in the cultural traditions that are present in their classrooms. None of these statements should be controversial.
The lack of representation is an equity issue, and to resolve it we can look to lessons elsewhere in our society. During the Vietnam War the Pentagon realized that majority Brown platoons of soldiers and Marines wouldn't take life-or-death orders from a uniformly White officer corps. The Pentagon thus underwent an intentional effort to diversify the officer corps. Since then, the Pentagon has submitted amicus curiae briefs in every major affirmative action case before the U.S. Supreme Court because they understand that representation matters.
TIME FOR A REPRESENTATION DISRUPTION
The word "disruption" gets hurled around frequently in business and increasingly in education. Usually, it's about handing Silicon Valley tech bros a metric-ton of venture capital to sprinkle the #EdTech™ fairy dust of the moment. But I'm going to argue that when it comes to teacher diversity and representation in schools, we actually need disruption.
In my neck of the woods the numbers are especially grim: There are only about 800 Black teachers in all of Washington State. In my 12-year teaching career, I have never worked with another Black male general education teacher.
There's no reason for me to be alone. We see talented students of color all over higher education because universities know how to recruit them. As Jeff Duncan-Andrade says, "Look at any college football or basketball team and tell me colleges don't know how to recruit Black talent. When I was a kid I thought Georgetown was an HBCU."
But it can't just be student athletes. We need to bring in students who can increase teacher diversity. It's imperative-and it's well within our power.
Columnist; Nate Bowling
Official website; http://www.natebowling.com/