How To Financially Survive When Sick And Off Work.
(Akiit.com) Being too sick to work can be a huge financial struggle for some people. Even with sick pay, surviving on a reduced income can make it impossible to pay the bills, especially when sick for extended periods of time. If you're currently ill and off work, here are some ways that you may be able to up your income and keep your finances healthy.
Work from home
Many jobs that require only a computer or telephone can now be carried out from home. Even if your responsibilities are reduced, you may be able to make more money than were you to not work at all. Of course, this may depend on the nature of your illness – if you're getting terrible migraines from staring at a screen or can't hold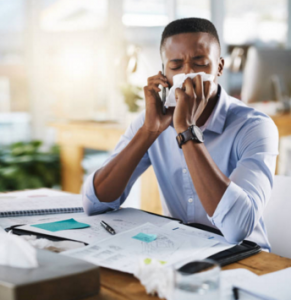 conversations on the phone, you may want to take a break from work entirely to recuperate. Remember to also consider odd jobs online such as filling out surveys and lending online skills to people on sites like Fiverr.
Sell your clutter
You can also make some money selling clutter in your home. Most of us have clothes we never wear or book we'll never read or inherited possessions in the loft that could be of value to someone else. You could sell these items online on sites like Gumtree, getting people locally to pick them up to save you money on delivery. If you don't have the energy to sift through the clutter you could always get help from someone else – they may even be able to take these items to second hand shop for you if you think you can make more money this way.
Look into government benefits
It's possible that you may be entitled to government benefits for being on a low income. This is more likely to be the case with long-term illness rather than short-term illness. Benefits could include food stamps to help stretch your food budget. You may also be entitled to TANF (Temporary Assistance for Needy Families). There even services such as Medicaid to help those uninsured with medical costs.
Consider your legal rights
If your injury or illness was directly the fault of someone else, it's possible you may be able to hire an injury lawyer and make money through a claim. This could be anything from a lack of safety in the workplace to a driving injury as the result of another road user or even an injury made by a professional company of whom you were a customer for. A claim could give help to fund your time off sick as well as any medical costs that were required as a result.
Get help from friends and family
Don't be too proud to ask your friends and family for help when ill. They may be able to make you meals or contribute some money to help fund your time off work. Make sure that they're aware of your situation and see what they can do for you.
Staff Writer; Shelia Cox