Taxes, and More Taxes.
(Akiit.com) Soda will cost you more in Philadelphia, Seattle, Boulder, Colorado, and a bunch of California cities because politicians in those places voted to tax it.
The social engineers claim soda taxes will "reduce obesity," "lower diabetes rates," "reduce medical costs," etc. But the politicians' main goal is to bring in money.
Philadelphia city council members applauded wildly when their tax passed.
But store owner Melvin Robinson says, "It's a bad tax." Robinson, who runs Bruno's Pizza, says the soda tax punishes his business.
His customers quickly agreed. One I interviewed for my new YouTube/Facebook/Twitter video angrily said, "Who should pay $3 for a drink that they used to get for 99 cents?"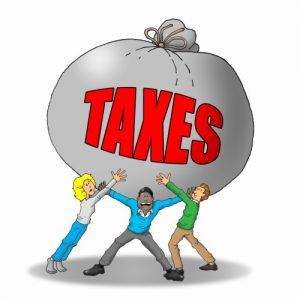 Now, instead of buying soda at Bruno's, she buys from a store in the next town. That's easy to do because Bruno's is located right on an outer edge of Philadelphia. Customers just cross the street to save money.
Do the politicians ever think about that?
"(The tax) is for what we feel is a good reason," Philadelphia City Councilman William Greenlee told me.
I thought he would talk about saving people from obesity. That would still be obnoxious and intrusive, but Greenlee gave another, simpler reason.
"We need the money. Nothing else that we could come up with could raise that kind of funding."
But the tax hasn't brought in as much money as they expected. Soda sales are down by more than 50 percent. That happens when people can escape taxes by crossing a street.
Or by buying other, even less healthy things. Taxes often have unintended side effects. Although soda sales are down in Philadelphia, liquor sales are up.
That surprised Greenlee. "I don't know about that," he laughed, "'cause we have a liquor tax, too!"
Another problem: soda taxes are regressive. They hurt poor people most. Even Bernie Sanders campaigned against Philly's soda tax, shouting, "You don't have to fund child care on the backs of the poorest people in this city!"
"I didn't know Bernie opposed it!" Greenlee replied. "But remember, we're raising enough money to put 2,700 kids in pre-K."
That was the city's justification for the new tax. Activists said thousands of kids would attend "high quality" preschool.
I doubt that the schools are "high quality." Government work rarely is. It is expensive, certainly — Philly spends more than $6,000 per child; Catholic schools charge less than $5,000.
Greenlee laughed at that, too, replying, "Priests and nuns don't work for that much money."
Politicians love taxes on unhealthy things, and so do the media. Both applauded when Denmark taxed fatty food a few years ago.
"Today Show" host Matt Lauer was thrilled. "Buy food that has a certain level of fat, they charge you extra! Do we like that?" His panel did. They clapped gleefully.
But Danes behaved a lot like Melvin Robinson's customers do. They crossed a border to avoid paying more. Denmark quickly repealed its fat tax.
But Philadelphia isn't repealing its taxes. People there already pay 44 different ones, including a nearly 4 percent city income tax.
I said to Greenlee, "How can the city government not have enough money? They should be rolling in it!"
"But there's a lot to do!" he replied.
Politicians do love spending other people's money. Philadelphia gave $4 million of its new soda tax funds to the Office of Arts and Culture. That bureaucracy spent the money on things like "hip-hop dance…to teach youth empowerment and social issues."
"Like we need that!" shouted Robinson, sarcastically. "People are trying to live!"
Then he added, politicians should "stop stealing."
I don't think they're stealing, but city council members make $121,000 a year, three times Philadelphia's median income. The mayor makes $218,000. That's not unique to Philadelphia. Politicians routinely make much more than people they allegedly serve.
"Citizens should make more money," Greenlee said.
They should.
Of course, they'd make more if politicians didn't tax them to death.
Columnist; John Stossel
Official website; http://twitter.com/JohnStossel