Teachers and Guns Kind Of Mix.
(Akiit.com) What should be done about school shootings?
The horrible shooting in Parkland, Florida, President Trump suggested that some teachers carry guns. "We need to let people know, you come in to our schools – you're gonna be dead."
Anti-gun activists were horrified.
But they probably didn't know that many teachers have brought guns to work with them for years.  In many states, such as Texas, people can apply for a gun license (read more about this via https://gunlawsuits.org/gun-laws/texas/constitutional-carry/), which makes it easy for people to bring a weapon with them if they feel they need one to keep them safe.
Some teachers at the Keene Independent School District in Texas carry concealed weapons at school.
"We know our staff and our teachers are gonna go" defend students, Texas' Keene Independent School District superintendent, Ricky Stephens, told me for this week's online video. "Do we want them to go with a pencil or go with a pistol?"
Stephens acknowledges that an attacker might have heavier weaponry than his teachers' handguns. "It's not much, but it's better than nothing," he argues. "If you go there with nothing, you have no chance of stopping anything."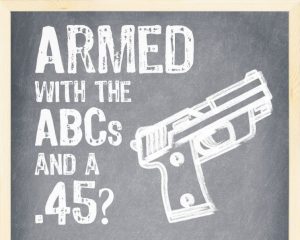 His teachers saw how in Florida the "school resource officer" simply waited outside during February's school shooting.
"It made me mad," a teacher in Stephens' district told us. She's glad she carries her gun. "We have to have a fighting chance if something should happen." For my video, superintendent Stephens asked us to obscure her identity. He doesn't want potential attackers to know which teachers are armed.
Opponents of armed teachers fear that guns will create new dangers. But even though teachers carry at hundreds of schools, I could find only one instance where one of those guns hurt a student. A California teacher accidentally discharged his weapon at the ceiling. A student was cut by falling debris. That's it. One minor injury.
By contrast, armed school staffers have stopped school shootings. In Pearl, Mississippi, an assistant principal held a boy who killed two classmates at gunpoint until police arrived.
No one knows how often armed teachers deter shootings. The media can't cover crimes that are never attempted.
Of course, the media distort proposals to allow teachers to carry.
One commentator shouted, "Teachers should not be required to protect!"
But no teacher is required to carry. It's voluntary. Those who want to can bring their guns to school.
On MSNBC, pundits criticized President Trump for advocating "arming" teachers, as if he'd proposed a federal program.
He didn't. He just talked about "armed educators." Since lots of teachers already carry guns, all a school has to do is allow some to bring their weapons to work.
The Keene district, however, does go further. "The school purchases the gun, and we register them to (some of) our teachers," says Stephens. Those teachers get 80 hours of firearms training and are paid an extra $50/month.
I gave Stephens grief about creating a "new government program." Why not just let teachers bring their own guns to school? Stephens explained that he wants teachers trained on the same gun "so if a gun is dropped, another teacher will know how to use it."
I pushed back again. "Why create a program at all?" There's no epidemic of school shootings. In fact, non-gang, non-suicide shootings have declined over the past 25 years. It's media hysteria that makes it seem like there's an increase.
I said to Stephens, "School shootings are much less of a threat to students than driving, suicide, drowning, even suffocating!"
"Exactly right," he replied. "But we do train our kids in school how not to suffocate and how not to drown. … One shooting is more than we would want."
Certainly, Stephens' armed-teacher program is cheaper than what my town does.
New York City spends millions of dollars stationing police officers in schools. Here, and in most blue states, suggesting that teachers be allowed to bring weapons to school horrifies people.
It's unlikely that the idea of allowing teachers to be armed is going to go much further at present. Beyond the concept, there has been next to no information on what training they would be required to undertake, what type and calibre of weapon, lawmakers would need to decide between 9mm and 45 in addition to a range of other options.
"They don't understand," says Stephens, "a responsible trained teacher with a firearm is better than having a teacher with nothing."
It's good that America has 50 states and many school districts. That allows for different experiments. Politicians in New York City hire extra police officers, but in Texas, the staff at the Keene school district can serve and protect.
Columnist; John Stossel
Official website; http://twitter.com/JohnStossel