Who Needs A Second Job When You Can Monetise Your Hobbies?
(Akiit.com) Empowerment is important, especially within the African American community. In an age where the social constructs of fairness and equality quickly melt away in the economic reality of the 21st century, the cold hard statistics don't match what our kids are taught in school. Black professionals, especially women still, right now in 2018 earn less than their caucasian counterparts. Moreover, the further African Americans progress in the career ladder, the more the pay gap seems to widen. Just take a look at these pay gap statistics for doctors of color in the US. In light of this, many black parents teach their kids that despite their best efforts the social and economic deck is stacked against them, and that they must take steps to empower themselves. In fairness, however, that's good advice for everyone.
Old or young, black or white, many of us are working under the yoke of corporations who repress our wages in order to protect their profit margins. In an uncertain economy many men and women have taken up a side hustle to hedge their bets and insulate themselves from the rigors of a capricious economy. But this doesn't necessarily mean more work (we're all working hard enough as it is). It can simply be a case of monetising our hobbies. You're a multi talented and intelligent individual, after all. If your skills and experience have value in the market, why shouldn't you use them to add a little to your monthly income?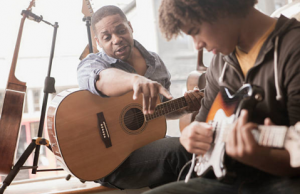 Take on work as a sports official
Many of us who had athletic tendencies in high school or college tend to pass on a love and appreciation of sports to our kids. Aside from empowering our kids, this allows us to take a peek behind the curtain and learn the more strategic and managerial aspects of the sport. If you've ever felt tempted to officiate in your kids' games you could make good money on the side as a game official. Use a sports schedule generator to manage your schedule and grow your reputation as an official and you could find yourself making more and more money as you grow in experience. You'll also get the chance to influence future generations, helping them to grow up with a sense of sportsmanship, fair play and honor. Starting out you can expect to make $20-$25 per game while making a huge difference in the lives of young athletes.
Put your green fingers to work in others' gardens
If your garden is the envy of your neighbors and never fail to draw impressed comments from visitors, while also keeping your whole family well nourished with delicious and nutrient rich organic vegetables your skills are certainly monetizable. You can make good money selling your harvest at farmers markets or simply on a stall outside your home. Or you can make money tending to your neighbors' gardens. You will likely have elderly neighbors who love their gardens but are no longer able to tend them properly, as well as professional neighbors who simply don't have time to give their gardens the attention they deserve. You can provide a valuable service while also making some good money on the side.
Help local kids get in touch with their roots with Music tuition
Music is a huge part of African American identity and many parents want to tutor their kids in the playing of a musical instrument as a means of getting them to engage with their historical and cultural roots. If you are musically talented and specialize in a particular instrument you can make good money tutoring kids in your neighborhood. And it never hurts to leave your contact details with local recording studios who are usually on the lookout for hardworking and reliable session musicians.
Monetize your creative voice by selling your art
It's an unfortunate fallacy that there are two types of people; creatives and everybody else. The simple truth is that everyone is creative and even if you haven't put paint brush to canvas since high school, your creative voice has value. There are many platforms to allow artists to sell their wares and choosing the right one can make all the difference. Many may rush to the familiarity of Etsy but Etsy's search algorithms are skewed against new artists. Unless you have over 100 items in your inventory, your work will be unlikely to get in front of the right pairs of eyes.

However, many who strike out with Etsy have more luck with Shopify. You can see a side by side comparison between the two right here.
The digital age allows us many tools for self liberation. If your skills have value, why take on more soul crushing work to make more money when you can monetize your hobbies?
Staff Writer; Peter Adams