CBC Introduces Bill Based On Main Street Marshall Plan.
(Akiit.com) "Every man is our brother, and every man's burden is our own. Where poverty exists, all are poorer. Where hate flourishes, all are corrupted. Where injustice reins, all are unequal." – Whitney M. Young
The Main Street Marshall Plan, the National Urban League's comprehensive blueprint for addressing lack of opportunity and economic inequality in America's urban communities, has been introduced as federal legislation by members of the Congressional Black Caucus.
The National Urban League long has advocated for a major national commitment to alleviate poverty and expand economic opportunities in America's most neglected communities, modeled on the Marshall Plan that eliminated widespread poverty in Western Europe following World War II. Then-Executive Director Whitney M. Young first proposed a "Domestic Marshall Plan" in the 1960s; elements of that proposal were incorporatedi into President Lyndon Johnson's War on Poverty.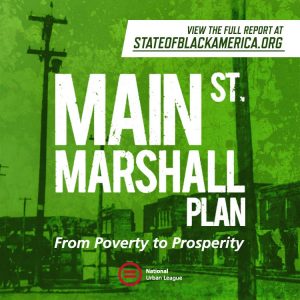 In 1990, National Urban League President John E. Jacob urged Congress to shift $50 billion in defense spending — part of the so-called "peace dividend" resulting from the end of the Cold War —into an "Urban Marshall Plan."
The Congressional Black Caucus' Jobs and Justice Act, unveiled Thursday at a news conference at the U.S. Capitol, represents the most inclusive legislation of the Main Street Marshall Plan, first proposed as part of the 2016 State of Black America and finalized in detailed form last year.
Among the provisions of the bill based on the Main Street Marshall Plan, the Jobs and Justice Act:
increases funding for programs that promote minority-owned businesses (MBDA and SBA).
creates incentives for infrastructure spending bills to include development programs that recruit and train individuals from communities with high unemployment rates.
authorizes states to establish local hiring bid specifications or consider the hiring of local workers in the evaluation of bids and proposals for federal-aid highway projects.
invests in transportation infrastructure through the successful "TIGER" program, which provides competitive grants to to local governments and transit agencies to fund innovative highway, bridge, and transit projects.
funds the creation of more than 1.9 million jobs by addressing critical physical and digital infrastructure needs in schools.
establishes new programs or amends existing programs for job skills training for older individuals and for workers in highly-skilled industries; and scholarships for students pursuing degrees in science, technology, engineering, or mathematics (STEM) and teaching certifications.
makes the work opportunity tax credit permanent
allows states to assist, through Title XX Block Grants, low-income and long-term unemployed individuals with developing their own businesses and self-employment opportunities.
incentivizes businesses to create apprenticeship programs.
creates a grant program to subsidize summer jobs for in- and out-of-school youth ages 14 to 24 and year-round jobs for youth ages 16 to 24 who are out of school and work.
Raises the federal minimum wage to $15.
Urges businesses contracted to rebuild infrastructure, to actively recruit, hire, and provide on-the-job training to African American men ages 18 to 39 through existing jobs, apprenticeships, and "earn while you learn" programs.
As I said when we introduced the detailed Main Street Marshall plan a year ago, it is time for the nation to treat its urban communities and cities as the jewels that they are. This comprehensive plan to rebuilt and accelerate the growth of America's urban communities will accelerate the growth and progress of the nation as a whole.
I urge you to contact your member of Congress and urge him or her to support the Jobs & Justice Act.