Why The Democrats like blacks to be out of control.
(Akiit.com) The murder of a Baltimore County police officer by a 16-year-old black male with an extensive criminal past has sparked national outrage.
Officer Amy Caprio, 29, was run over and killed after she responded to a 9-1-1 call and approached a group of black males suspected of burglarizing a home in Perry Hall, Maryland.
The driver, Dawnta Anthony Harris, has been charged with first-degree murder as an adult. Police also charged three other teenagers with first-degree murder and felony burglary. The judge called Harris a "one-man crime wave."
Despite a confession, Dawnta Harris' black attorney, J. Wyndal Gordon, blamed the deceased officer. In a press conference with the suspect's mother, the attorney claimed Officer Caprio showed "aggression" and that the accused teen was in "survival mode" when he ran over the officer with a stolen Jeep. This shameless lawyer knows his suspect is guilty, yet he's putting the deceased officer on trial. What a lowlife!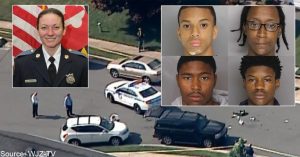 According to reports, Officer Caprio was able to get off a single shot, but she didn't hit the suspect. I can't help but wonder if she hesitated at all due to the intense scrutiny police are under every time they engage black suspects. In 2018 alone, 60 officers were killed in the line duty.
Outraged by the cold-blooded crime and lack of accountability from disgraced Baltimore City State's Attorney Marilyn Mosby, Lt. Gene Ryan, president of the Baltimore City Fraternal Order of Police Lodge #3 wrote a scathing Op-Ed and laid the blamed on Mosby's "catch and release" philosophy of criminal enforcement.
I was stunned to learn that the incompetent Marilyn Mosby is still Baltimore City State's attorney.
In May 2015, Mosby charged six Baltimore Police Officers in the death of drug dealer Freddie Gray primarily to appease Black Lives Matter thugs. She charged the officers with a variety of crimes, including second-degree murder and involuntary manslaughter, and acknowledged protesters and rioters saying: "To the people of Baltimore and the demonstrators across America, I heard your call for 'no justice, no peace.'"
Harvard Law Professor Alan Dershowitz and other legal experts said that Mosby overcharged the officers to satisfy protesters. Five of the six officers charged by Mosby were acquitted and one ended in a mistrial.
Mosby, along with former Baltimore Mayor Stephanie Rawlings-Blake, allowed criminals to loot and riot after Freddie Gray's funeral. The mayor even announced she had instructed police to give protestors "who wished to destroy space to do that." The riots resulted in more than two dozen arrests and at least 15 police officers were injured.
After the rioting, the city invited Obama's Justice Department to investigate. Last year, a federal judge approved a consent decree between the city of Baltimore and the U.S. Department of Justice mandating sweeping changes in how police deal with criminals in poor, predominantly black neighborhoods. The consent decree places sweeping new restrictions on officers, including limits on when and how they can engage blacks suspected of criminal activity and requires supervision of officers by a civilian panel including "civil-rights leaders" – a recipe for disaster!
Mosby is not fit to serve and she owes the Baltimore Police Department and Baltimore residents a public apology.
Dawnta Harris, the suspect who killed Officer Caprio, has an extensive rap sheet, yet he was released on electronic home monitoring 11 days before he killed the officer.
Harris' mother didn't assume any responsibility for failing her son. Instead, she blamed the juvenile detention system.
The anger in this boy started in the home. He's acting out because he hates his mother and yearns for the love of his father. Instead of helping him forgive his parents and stop blaming whites and police, black "leaders" are validating his anger by making excuses for his criminality. Without fathers and the lack of moral character, most black males are set up to fail. I write about this in my book, "The Antidote: Healing America From The Poison of Hate, Blame and Victimhood."
Baltimore isn't the only city where police are under attack.
Chicago Police recently held "Blue Wednesday" where the city's Fraternal Order of Police showed up at a City Council meeting to address their grievances against the mayor. They say that Mayor Emanuel has "turned his back" on them. They're also unhappy with a consent decree with the federal government that's in the works. Like Baltimore, the decree will create more anti-police bureaucracy.
President Trump tweeted in defense of the Chicago police, saying they had "every right to legally protest."
What do Chicago and Baltimore have in common? Both are run by liberal Democrats and are suffering from Obama-era policies that coddle criminals and prevent law enforcement from being proactive in their policing.
Blacks have been allowed to go out of control so they can be used by Democrats for political gain. They don't want blacks to be moral, law-abiding people, because a moral people cannot be controlled.
Blacks must assume responsibility and stop blaming police for enforcing the law. These thugs who attack police don't value life. Anyone who makes excuses and defends these criminals is part of the problem.
Columnist; Jesse Lee Peterson
Official website; http://twitter.com/JLPtalk