How to Become an Expert Guitar Player.
(Akiit.com) You'll find that there's nothing as satisfying as picking up an instrument and being able to play whatever song you feel like. Live, and especially, unplanned, music can bring joy to all that are listening, and it's a skill that people across the world will appreciate. It's no secret that the guitar has the potential to spark emotions, feelings, and memories of great times; making it the instrument of choice for many. Guitars are used in music of all genres, making it a universal instrument that you'll play for the rest of your life. It takes plenty of practice and dedication to learn how to play, but once you do, it's a little like riding a bike, and you'll never forget.
If you've been playing the guitar for a little while, but are keen to hone your skills and become an expert guitar player; there's no time like right now, to put your efforts into channelling your inner B.B.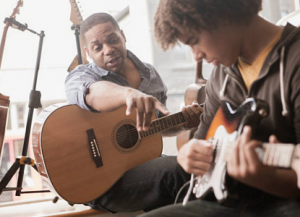 King or Jimi Hendrix. The following are some tips, ideas, and advice for those who want to improve their guitar skills further so that they can always enjoy the gift or music, and no tune is too challenging to play.
Practice, And Often!
It's as simple as that; practicing is the best way to improve your skills, learn new songs and tunes, and become familiar with your instrument. Your free time during the weekends or a vacation, should now become an opportunity to pick up your guitar and begin strumming. It's worth checking out sites like BoldMusicLessons.com to get some inspiration and advice on practicing guitar licks and riffs; you'll get better over time, and the more you research and play, the better your technique will become. Make sure you have a space where you can concentrate (and that isn't going to annoy and friends or family), and absorb yourself in all things guitar for as long you can, regularly.
Invest In What You Need!
Aside from official lessons, and (obviously) owning a guitar; there are an array of things out there that can help you to practice and improve the melodies that will float out of your instrument. Therefore, it's worth spending some time doing a little research in the latest technology and apps that can help you improve, coupled with the classic guitar accessories that can help with your sound. Check out some of the latest guitar tech and equipment through online reviews, and speak to those in the know in your nearest guitar or music shop.
Call Your Friends!
Music loves company, so don't be afraid to invite your buddies over for a jam session or two. Head to community centers and see if anyone is looking to collaborate or just hang out to appreciate music. Not only will you strengthen friendships with those with similar interests; you'll be able to push your talents further and create richer sounding music. You guitar will be there to play on your own whenever you please, so make the most of those people who want to join you on this musical journey.
Staff Writer; Peter Brown