Movie Review; The Yellow Birds.
(Akiit.com) If mood were an actor, it would get top billing in this poignant ode to veterans of the Iraq war who suffer from PTSD.
The feeling of sadness that prevails is even stronger than the solid performances by Alden Ehrenreich (Solo: A Star Wars Story), Tye Sheridan (Mud, X-Men: Apocalypse), Jennifer Aniston (Horrible Bosses), Jack Houston (Ben Hur) and Toni Collette (Little Miss Sunshine). Despair reigns over the sensitive direction by Alexandre Moors  (Blue Caprice), the vivid cinematography by Daniel Landin (Sundance Film Festival Award Best Cinematography for The Yellow Birds) and emotionally draining musical score by Adam Wiltzie (God's Own Country).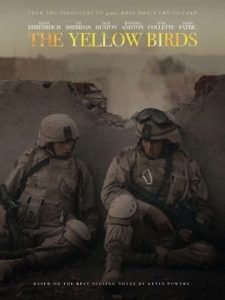 Many films have ventured into the war story genre. Some were epic productions that stayed on the battlefield (Saving Private Ryan, Apocalypse Now, Platoon). Other smaller films made strong statements about the aftereffects of combat (Coming Home, Thank You for Your Service). Some did both (American Sniper). The Yellow Birds fits in the latter category.
Iraq war veteran poet and author Kevin Powers was stationed in Mosul and Tal Afar, Iraq, from 2004 to 2005. He was a machine gunner at age 18. The central character he created in his first novel reflects his experiences, feelings and the questions he asked himself as a soldier and then a distraught man re-entering civilian life.
Brandon Bartle (Ehrenreich), a 20-year-old soldier, befriends the extremely shy Daniel Murphy (Sheridan), an 18-year-old recruit. The crux of their older brother-younger sibling relationship is exemplified at a Christmas party when Murphy is too timid to say hello to a nurse who is giving him the eye and Bartle haphazardly makes the first introduction for him. It's a good thing the two guys have each other because they are serving under a weirdly insensitive Sergeant Sterling (Jack Huston), who enlists the two in his own personal dissident army: "They're gonna kill the f—k out of some of us.  We're gonna kill the f–k out of some of them."
Before the boys ship off to Iraq, Murph's mom Maureen (Aniston) befriends Bartle and implores him secretly: "If something happens (Murph), I would like to hear it from you first." That's a lot of responsibility to put on a young man's shoulders. Bartle doesn't carry that weight well, but he does keep a loose eye on his young charge. As the soldiers encounter enemy fire, mortar attacks and land mines the two friends become disillusioned, despondent and scared.  Bartle is better at expressing his fear: "The war tries to kill you in the spring and in the summer…some f–king Garden of Eden," he sarcastically pines.
Upon his return to his single mom (Collette), Bartle is not the same. He is sullen, withdrawn, haunted, antisocial. It's as if he left his soul on the battlefield. He's also left something else. Murphy. An officer (Jason Patric) from the U.S. Army Criminal Investigation Command (CID) tracks Bartle and Sterling, trying to find out what happened to the 18-year-old kid. Both soldiers evade him, as if they are keeping a secret they don't want revealed.
Co-screenwriters David Lowery (Ain't Them Bodies Saints) and R.F.I. Porto (Blue Caprice) have kept the essence of Kevin Powers powerful novel alive, judiciously using his words, editing his story down to its essence and leaving enough of a blueprint for director Moors to build his own house. The storylines are juggled with a certain precision, with home scenes and war sequences thoughtfully interspersed. As the film begins, it starts like a very ordinary war movie told by a vulnerable recruit. One-third of the way in, it becomes clear that something out of the ordinary has happened, only no one wants to talk about it. Meanwhile, the ravages of war are on view and its toll is devastating.
If the film has one transgression, it's that it fails to reveal how the presence of American troops in foreign lands are experienced by the people who live there. You witness the armed forces returning fire, aggressively terminating adversaries and sometimes killing innocent people.  But you never see the point of view of the locals. Maybe that would be a whole different movie.  Maybe it should be a part of any American-made film that chronicles war overseas, as the other side of any issue can be illuminating.
Credit Moors and the writers for a film that is not dialogue-heavy, like a play, but filled with words that are evocative and thoughtful: Captain Anderson from CID to the very troubled Bartle: "You're only as sick as your secrets." The sparse use of conversation makes what's on screen very visual. It also gives the cast room to perform with emotions first and words second.
Ehrenreich's brooding is particularly compelling. He's like a cauldron of poisons ready to boil over. And when the time comes to reveal the hurt and anger inside, he unleashes it with a fury, which peaks in a scene when his worried mother pushes him too far and he attacks her. The look of astonishment on Collette's face and the rage in Ehrenreich's eyes is shocking. Ehrenreich went on to play Han Solo in the misguided film Hans Solo: A Star War Story. Here, he proves he has what it takes to move an audience given the right material, direction and an able supporting cast (Lee Tergesen, Renee Willett, Olivia Crocicchia, Gershwyn Eustache Jnr).
For those who are accustomed to the blasé attitude Jennifer Aniston exhibited on the very popular but shallow TV series Friends, this is one of the few times she gets out of her comfort zone and plays a dramatic role that she completely inhabits, getting under the character's skin. Her Maureen is determined to find out what happened to her son, and you believe her quest.
Tye Sheridan projects the innocence of Murph in a way that is endearing. He portrays a kid caught in circumstances that are above his understanding and beyond his maturity. His situation resonates because so many enlisted men and women are way too young for the life-or-death situations they face.
The groundwork is laid for a war/crime/suspense story that becomes increasingly riveting and heart wrenching as it comes to a conclusion after 94 minutes. What you see and hear will haunt you. Despite all the strong elements, a somber mood is what you will take away.
Columnist; Dwight Brown
Official website; http://DwightBrownInk.com