Film Review; Mission: Impossible — Fallout.
(Akiit.com) Bigger. Better. Badass.
By now you know what to expect from Mission: Impossible movies. Daredevil action scenes. Breakneck speeds. Cunning espionage. Inventive direction. Top production quality. Spot-on performances.
Mission: Impossible — Fallen doesn't reinvent the wheel.  It just ups the ante, intensifies all the elements and makes everything look bigger—like you're looking at life through a microscope. And that closeup perspective gets blown out of proportion if you watch this 2h 27 min action/adventure/thriller in an IMAX theater. Do that and you'll need to chug a bottle of Dramamine.
Tom Cruise is wise to stick to this franchise. He's had dubious success in other recent ventures (The Mummy, American Made). MI is his security blanket. He shines in them. He likes to perform outlandish action stunts that would make extreme sports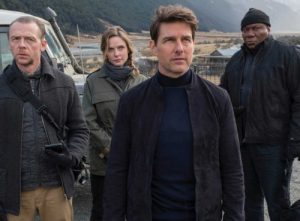 athletes piss their pants. He's equally deft at displaying that humble but dare-me air that is so integral to his covert operative persona.
Ethan Hunt (Cruise) is on the outs with the head of the CIA, Erica Sloan (Angela Bassett). Hunt and his IMF (Impossible Missions Force) crew, Luther (Ving Rhames) and Benji (Simon Pegg), have fumbled a very important task: Retrieve nuke devices and save the world. He's out to control the damage, save his rep and do the right thing.  It won't be easy.
Sloan has taken a tough stance, she slams the famous agent and enlists a new operative, August Walker (Henry Cavill, aka Superman). "This is the CIA's mission," she says furiously. "If he had held on to the plutonium, we wouldn't be having this conversation." Sloan sends Walker as an emissary on Hunt's new quest. Ethan doesn't trust the dude. He shouldn't.
The plot by writer/director Christopher McQuarrie (Mission: Impossible – Rogue Nation) uses elements from former MIs, yet this script is also a self-contained entity. It takes its participants to Paris, London and Kashmir among other places. The exquisite locales, from bustling cities to picturesque mountain ranges, provide a varied playground for car chases, helicopter battles, perilous parachute jumps, rock climbing, fist fights and shootouts. Then there's the occasional smooch on the lips by strikingly beautiful women (Rebecca Ferguson as an MI6 assassin, and a former wife played by Michelle Monaghan) and femme fatales (Vanessa Kirby as the arms dealer White Widow).
McQuarrie's action scenes rival the best ever created, choreographed and rendered in any action film including the entire James Bond series. Yes, he has Cruise as a formidable muse, but someone has to think up this crazy stuff: A three-way fight in a white-marble toilet stall; less green-screen magic and more real stunts; setting trap after trap and letting the IMF  execute daring escapes.
Once the film ends, the storyline, intriguing as it is, will not be what you remember. Instead you will never forget the innovative stunts that are strung together with uncanny precision (editor Eddie Hamilton, MI – Rogue Nation, Kingsman: The Secret Service), intensified by a blaring emotionally-charged bass/violin-driven musical sound track (composer Lorne Balfe, Pacific Rim: Uprising) and enhanced by picture-perfect photography (cinematographer Rob Hardy, Ex Machina) that prefers attention-grabbing, you-are-there closeup shots.
It's refreshing to see Angela Bassett in a role that is equal to her ferocious power. It's surprising to watch Cavill, who is so innocent in the Superman series, play against type and behave like a real dick. Juggling their comic lines with real states of fear and courage makes Pegg and Rhames the quintessential sidekicks. The entire supporting cast, including Sean Harris (Prometheus) as a diabolical mass murderer who is out to kill everyone Hunt loves, defers to Cruise and a character he has made indelible.Whatever he was paid to resurrect Ethan Hunt for the 6th MI was not enough. He's the series lifeblood. Even at age 56, he can dodge a bullet with the best of 'em.
How they hell will they up the ante even more for Mission: Impossible 7?
You won't know until the next one falls from the sky.
Columnist; Dwight Brown
Official website; http://DwightBrownInk.com