Donald Trump's Tricks: How He Riles the Media While Entertaining Supporters.
(Akiit.com) Critics often accuse President Donald Trump of using dog-whistles to gin up his conservative base. But really, Trump's most effective trick is to get TV journalists to attack on demand — as you can see in cable news coverage on the caravan of Central Americans headed toward the U.S. border.
Perhaps the biggest sucker for Trump's caravan play is Joe Scarborough, the former GOP congressman who hosts MSNBC's "Morning Joe." Scarborough led his Friday show with a lecture to Americans concerned about the caravan.
Voters should be concerned about the GOP tax cut that benefited the rich, and the prospect of Republicans fiddling with Social Security and health care, not the caravan, Scarborough schooled his viewers. "That's what's happening in your life. And they don't want you to know that."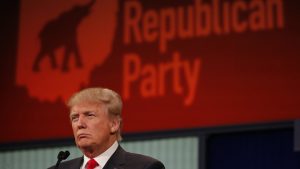 Scarborough pooh-poohed the notion that some voters might have concerns about criminal elements sneaking in among refugees looking for a better life — as happened during the Mariel boatlift from Cuba in 1980 — by dismissing such fears as simple racism against "brown people."
As for those politicians who see the caravan as an issue, the MSNBC don concluded, "They think that you are stupid" — showing that Scarborough thinks you are stupid.
Another Trump trick is to make claims he must know are false, which means fact-checkers are sure to issue banal refutations of his dubious claims.
Turn on your TV and you can learn Democrats really aren't giving Rolls Royces to asylum-seekers as they cross the border with Mexico, as Trump said in Arizona this month. Oh, and Democrats aren't bankrolling the immigrant caravan and aren't passing out voter registration forms to new arrivals — two other Trump claims.
"I don't agree with him that Democrats are paying for it," former Trump campaign aide Sam Nunberg told the Review-Journal. At the same time, Nunberg added, "You know where they (Democrats) stand. They want to abolish ICE. They want sanctuary cities. They are out of the mainstream."
In short, Nunberg argued, Trump may be wrong on the details, but he's right on the spirit. Trump doesn't spout "complicated, esoteric legalistic" rhetoric on immigration law, Nunberg added; his bluster is "straight talk."
Is it lying? Sure, Anthony Scaramucci, Trump's White House communications director for 11 days, told CNN Tuesday. "I think he likes it actually."
Scaramucci described Trump's untruths as entertainment for base voters who like Trump's act and think, "We finally have a president who is my advocate."
Is that right? No, it is not right, but it is the way the country works right now. To the Trump base, Trump's lies equalize "fake news," so the smart play is to understand where news outlets can improve.
Trump's decision to call himself a "nationalist" in Houston Monday was instructive.
To the Trump base, nationalism and "America First" are born out of patriotism. Why does the base love it when Trump uses words that make New York anchors cringe? GOP strategist and CNN contributor Alice Stewart believes, "Donald Trump makes these voters feel like they're 10 feet tall and bulletproof and no one's ever made them feel that way before."
Columnist; Debra J. Saunders
Official website; http://twitter.com/debrajsaunders