Movie Review; Mobile Homes.
(Akiit.com) Recently, two films explored the experiences of families living on the edge of poverty and homelessness. The Florida Project chronicled the lives of poor people living in a pink motel steps away from Disney World, in Orlando, Florida. As told through the eyes of cheery little kids, its tone was way too rosy for the subject.Shoplifters, a Japanese film, put a family of petty thieves under the microscope. Again, an interesting premise but its novelty approach was not affecting.
Mobile Homes, written and directed by French filmmaker Vladimir de Fontenay, who also created a short film of the same name, takes more risks. His script surveys imperfect people living a marginal existence who make wrong choices, are rootless and headed in the opposite direction of upward mobility.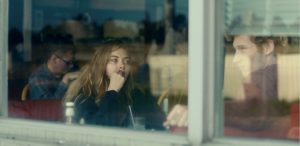 Ali (Imogen Poots), a young mother, her reckless boyfriend Evan (Callum Turner, Queen & Country) and her eight-year-old son Bone (Frank Oulton) are unscrupulous vagabonds. They make money by hustling drugs and selling roosters for cockfighting. The traveling underworld they call home does not have a roof. The three spend days in their van and nights in motel rooms or homesteading in vacant houses. Eating out is a breeze because when chow time comes, they dine and dash: The adults act like they're using the restroom, but run outside to rev up the van and Bone dashes out the door and jumps in.
The love between Ali and Evan is most obvious when they're in bed being intimate. It's less easy to discern when they argue and fight. Evan is the architect of their criminal ways and doesn't always consider Bone's safety in his schemes. One harrowing incident makes the protective mom flee from her beau with her kid in tow. She seeks refuge with an older man, Robert (Callum Keith Rennie,Born to Be Blue), who buys and sells mobile homes. He and his business could be her salvation. She on the other hand may be his doom.
The first two acts, with the trio of gypsies living hand-to-mouth and crime-to-crime, is involving. Their sociopathic tendencies and blasé attitudes about stealing makes them distinct. Their kinetic lifestyle  has them moving around instinctively like a pack of wolves. The love between the mom and son is undeniable. The relationship between Evan and Bone is less defined, and makes you worry about the boy's welfare. Tension builds and you're never sure if mom and son will survive long enough to make better decisions even though the third act offers hope.
The sets, surroundings and locations don't look like Candyland, like they did inThe Florida Project. The delinquency on view is alarming and life-threatening, not trivial, like it was in Shoplifters. Vladimir de Fontenay captures the right balance of compelling drama and suspense. There is so much on the line, so many dire circumstances that the characters' peril grips your attention. Keeping viewers on the edge of their seats, from beginning to end, is the mark of a well-crafted and executed film.
Poots interpretation of Ali makes the protagonist so normal that she feels like someone you may know or have seen. A poor soul on a street corner begging with her kid. A person recycling bottles at a supermarket for loose change. A woman wearing tattered clothes dashing across a street with all her belongings in a knapsack. They all have a back story. Ali's life could be theirs.
Reckless Evan evolves from a narcissist with no moral compass to a villainous stalker with help from the very intuitive actor Callum Turner. Callum Keith Rennie's Robert is the nurturing dad Ali never had—calm, self-assured and positive. Oulton's portrayal of Bone is always fragile.
Wintry scenes along the US/Canadian border underline the perils of not having a real home, and the cinematography (Benoit Soler), production design (Zosia Mackenzie) and art direction (John O'Regan) add an understated quality that makes everything appear authentic. Tight editing (Nicolas Chaudeurge, Maxime Pozzi-Garcia and Andonis Trattos) cuts the proceedings down to a trim 105 minutes running time and a wistful musical score (Matthew Otto) is atmospheric.
Could this story happen in real life? Don't know. Does it carry a touch of stark realism in every scene? Yes. That's what's important, that despondent feeling that's left behind.
Columnist; Dwight Brown
Official website; http://DwightBrownInk.com