LA's Oldest Private Club Reimagines Its Place In The Art World With Artist-In-Residence Lauren Halsey.
(Akiit.com) Established in 1880, The Los Angeles Athletic Club has been operating out of its building at the corner of 7th and Olive Streets in DTLA since 1912. From its outset, the Club was far more than a gym; it was a place where men and women came together to celebrate theatrics, poetry, and the ethos of sound mind in sound body.
In 1913, a group of LAAC members – including L. Frank Baum and Harold Lloyd – founded The Uplifters, an artists' society within the Club. Their mission was "To Uplift Art and Promote Good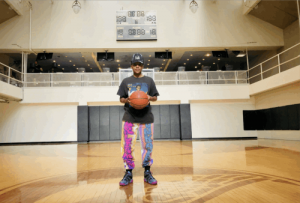 Fellowship." The Uplifters' current heads (a role termed "The Grand Muscle" by L. Frank Baum) are Suzanne Zoe Joskow and Jennie Taylor Tucker. In 2018, they recognized an opportunity to enact a robust Arts Initiative at the Club:
"We established The Arts Initiative to uphold The Uplifters' founding motto, while also promoting a contemporary spirit of inclusion and outward-facing engagement with our DTLA neighbors. Ultimately, this is about building an arts community that serves both the LAAC and Los Angeles at large."
The LAAC is excited to welcome Lauren Halsey, whose work has appeared in a solo installation at MOCA, as part of The Hammer's "Made in LA", and who is currently working on a permanent, public installation for LA's Crenshaw District. As part of her Residency, Halsey has access to a private rooftop studio at the Club, overlooking DTLA. As a full member of the Club, she can continue health and wellness as an integral part of her practice, including her love of basketball.
Of her residency at the Club, Lauren Halsey says:
The Uplifters' Arts Initiative is expansive beyond the Artist-In-Residence program. We have worked with and will be working with many LA-based artists, including RETNA, Ry Rocklen, X.X.T., and local artisans curated by Unique Markets.
Cory Hathaway, The LAAC's Assistant General Manager, comments:
"We are excited to see the Uplifters' Arts Initiative reinvigorate the Club's century-old legacy as an epicenter for Los Angeles artists. One of the reasons the LAAC has thrived in Downtown LA for over 100 years is that we are always evolving and embracing new ways to serve our community."
ABOUT THE LOS ANGELES ATHLETIC CLUB:
The Los Angeles Athletic Club (LAAC) was the city's first private club. Throughout the years, LAAC membership have been iconic Angelanos, with names like Lankershim, Chandler, Dockweiler, Doheny, O'Melveny, and Slauson. During the Golden Age of Hollywood, stars such as Mary Pickford, Rudolph Valentino, Douglas Fairbanks, Jr., Harold Lloyd, Johnny Weissmuller, and Charlie Chaplin congregated at the Club. Since 1977, the LAAC has been home to the Wooden Award whose recipients include, Marques Johnson, Michael Jordan, Kevin Durant, Candace Parker, Breanna Stewart and most recently, A'ja Wilson and Jalen Brunson.
Over the Club's history, athletes from the LAAC have earned 97 medals in the Summer Olympics. To this day, the Club is regarded as one of the top athletic facilities in Los Angeles offering an array of activities including basketball, squash, swimming, personal training, and spa services. http://www.laac.com