Dads and Divorce: What You Need To Know.
(Akiit.com) Divorce is an experience that is hard on everyone that is involved, but it can be especially tough for fathers. After all, they have the pain of losing not just a relationship with their spouse but also experiencing massive changes in the dynamic with their children as well. That is why I have created this guide on all the key things that dads need to know about divorce. Read on to find out more.
Coparenting
Just because your marriage is over it don't mean that your role as a father is as well. In fact, it's quite the opposite! Of course, you will need to find a way to parent alongside your ex and put your children's need first, and this can be tricky, especially when there is a lot of emotion involved.
However, learning to be an effective coparent is essential if you want to give your kids the very best start in life, and stay as involved in their lives as possible.
Staying emotionally close to your kids
One of the biggest challenges for divorced dads is to stay emotionally close to their children. Especially when they are not the ones that have custody and no longer live in the family home.
With that in mind, getting advice on child visitation rights for fathers is one thing that is worth investing your time in. After all, it can be tough to maintain that emotional connection even when you are physically present in your children's lives, let alone when you don't get the chance to spend time with them on a regular basis! Also having a lawyer can also help smooth out the tension one may have with the co-parent. Peter May is the man for the job, and more info can be found here; https://petersmay.com/about-us.
Although it's important to also engage with the kids even when you aren't physically with them. That means sending birthday cards and gifts, as well as texting each day to see how they got on at school. Remember, emotional closeness is a product of being physically and psychologically available for your children, and so these two things need to be a top priority if you are a divorced dad.
Child support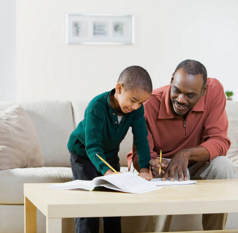 Another major challenge for dads that are divorced is child support, something that can be difficult emotionally as well as financially. This is because it is paid directly to your ex who gets to decide how to spend it, which can be quite problematic if you are out there working your butt off and they seem to be living the high life.
However, as overall, most of the benefits of child support go to ensuring that your kids have the best start in life, it's crucial that you understand your responsibilities here, and keep up to date with payments. In fact, failing to do so can negatively impact your visitation rights, and as discussed above, these are something you will want to keep intact as a divorced dad.
Negotiating new relationships
Lastly, after a divorce, it's only natural to want to move on and start seeing someone new. However, it is always best to wait to introduce a new partner to your kids until you know you are in a serious relationship.
This is because they have just experienced two of the most important people in their world splitting up, so as a caring father you really don't want to expose them to a similar situation again. After all, it could open up painful emotional wounds for children of divorce that are only just starting to heal.   
Staff Writer; Calvin Durant