Action-Packed Travel Experiences You Should Pursue.
(Akiit.com) The world is full of amazing adventures and experiences for you to have. If sitting on a beach bores you, next time you head out to travel, you should choose an action-packed travel experience instead. There are plenty of ways to do this, and they don't all include huge dangers. There's an adventure holiday out there for just about everyone, you just need to learn about the options.
If you're not sure what kind of action-packed travel experience is the right one for you, we're going to talk about some of the options and give you some ideas. Each of the travel experiences below offers something different and pretty unique. Consider them all and decide whether any of them are going to be right for you.
Skydive in Dubai
Skydiving can be a lot of fun, but it's also very scary if you've never done it before. If this is one of those things that you've been waiting to cross off your bucket list for a long time, you should do it in Dubai. There's something stunning about the unusual landscape of Dubai that makes seeing the Earth as you fall through the sky even more impressive. There are lots of professional companies out there that organize these kinds of skydiving experience, so make the most of them.
Tour Cuba by Car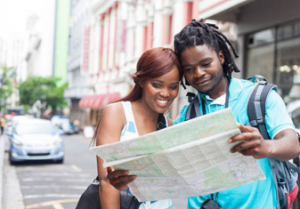 Cuba is a country that has only recently been opened up a little more to tourists. You should make the most of this by experiencing this wonderful and awe-inspiring nation for yourself. If you want to add some action to the experience, you should tour the whole country from Havana to the remote countryside by car. Cuba mainly uses only cars from the 1950s, and this can make the experience of driving around the country even more fun and enjoyable.
Explore the Rugged Icelandic Landscape
Iceland is a country like no other, so if you've never been there before and you're not sure what it's like, you should give it a try. Any explorer would love what's on offer in Iceland because it's so vast, harsh and rugged. It's not for the faint hearted, but if you like an adventure and you're not afraid to explore, you should book yourself a trip to Iceland as soon as you get the chance to. There are guided adventures you can take, but whatever you do, don't underestimate the challenge.
Swim with Wildlife in Western Australia
Western Australia is a wonderful location for wildlife lovers from around the world. If you want to get the most out of your trip to this part of the world, you should make sure that you swim with the sea life you'll find there. Many people take a trip to the coast off Western Australia purely so they can have the chance to swim with the turtles that are native to those waters. Getting close to these incredible creatures and witnessing them in their natural environment is something that you won't want to miss out on.
For more information about Holidays for over 50's visit Fun over 50 Holidays.
An Offshore Fishing Trip
Offshore fishing is probably not for everyone, but if you love fishing and you want to experience it in a more adventurous way, trying offshore fishing is probably the way to go. There are places all over the world that offer this kind of experience and you'll learn a lot from it. You can click here for more more information if you're interested in taking an action-packed fishing trip in America. You might be surprised by just how much fun you can have with this.
Go Rafting in the Grand Canyon
The Grand Canyon is obviously considered one of the most incredible sites of natural beauty found anywhere in the world. But did you know that you can also experience white water rafting there as well? That's something that many people don't realize, but it can be a whole lot of fun. You can spend a lot of time in the Grand Canyon and do everything from climbing and rafting to camping. It's entirely up to you, but it's certainly an adventure that's worth going on.
Trek Machu Picchu in Peru
Machu Picchu is where you'll find the ruins of a lost civilization high up in the mountains. It's the kind of place that you will want to experience at least once in your life because it's so captivating and so incredible to think that people used to live here long, long ago in one of the first human civilizations. You should take the opportunity to trek up to where the ruins are located and then explore them at length. It'll be one of the best and most memorable experiences you ever have.
Stay at the Everest Base Camp
You might not want to climb to the peak of Everest, and who can blame you? But that doesn't mean you can't make your way to the base camp and stay there. It's still a very challenging journey to make and saying you've stayed the night at the Everest base camp is something pretty special. Anyone can do it if you're willing to do the work to get there, so don't rule it out. It could be a fun experience for you and your fellow travelers.
Visiting The Greek Islands and Athens
There is so much to see when visiting Greece. The islands provide a gorgeous view, and Athens is rich with history and places to explore. To really take in all the things you can do while in Greece you'll need a Greece itinerary.
Camp and Stargaze in Namibia
It's generally agreed that the best place on Earth for stargazing is Namibia. The skies are so clear here and you can see so much. You should head to the country, find the right spot and camp for a while. It'll be an amazing experience and you'll learn a lot about a great country that people don't often talk about along the way.
When you travel, you want to do things that you're going to remember for the rest of your life. That's what makes travel special. So if you're not sure what to do next, let the action-packed and thrilling travel experience ideas above guide you. If you choose any one of these ideas, you'll create memories that'll last forever.
Staff Writer; Ron Love