Democrats Christmas Gift To Organized Labor: Pink Slips For All.
(Akiit.com) It's Christmas season, and Santa is checking his list twice to see who's been naughty and who's been nice.
The Democratic Party has made its own list, and this season unionized workers will find coal in their stockings.
For decades, organized labor was the backbone of the Democratic Party, providing money for its campaigns and troops for its get-out-the-vote field operations.
Labor was also the backbone of the American middle class, providing disposable income and economic security so millions of American could build a future. The building trades (and steelworkers) literally built the country we live in. Through apprenticeship training programs they gave millions experience and instruction to get established in a career without the burden of debt.
But unionized workers are an afterthought at best for the new Democratic Party, a party of college-educated professionals pre-occupied with issues of lifestyle, race and gender.
When labor looks for a Christmas present from the Democratic Party, it will be a pink slip.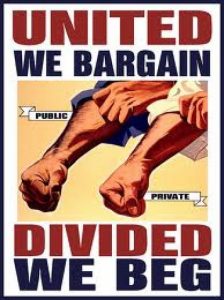 America's building trade unions have a wish list of infrastructure projects that will rebuild America and put Americans back to work. High on that list is the Atlantic Coast Pipeline.
It will carry clean-burning natural gas 600 miles from wellheads in West Virginia to customers in Virginia and North Carolina. It will put over five thousand laborers to work, generate hundreds of millions of dollars in new income for working families and bring more than $1 billion in new investment into our communities.
Four trade unions – Laborers' International Union of North America Teamsters National Pipeline, International Union of Operating Engineers and the United Association of Journeymen and Apprentices of the Plumbing and Pipe Fitting Industry of the United States – will be hiring and training the 13,000 construction workers needed to build the pipeline.
At least half of the construction workforce will come from local union membership in West Virginia, Virginia and North Carolina, and at least 25 percent of all new hires – individuals joining the trade unions for the first time – will come from the local communities where the pipeline will be built.
But rather than siding with the people who will need these jobs, Virginia Sens. Mark Warner and Tim Kaine have cast their lot with the professional activists blocking the Atlantic Coast Pipeline. In doing so, they have kicked working families in the teeth. Of course, they won't come out and say it, but you have to look at what politicians do, not what they say.
The senators are following the Democrats' playbook on immigration: Don't say you're for open borders, just oppose everything that would shut the border – oppose physical barriers, oppose deporting criminals, support sanctuary cities, support catch-and-release, support legal challenges to enforcement measures.
In the same fashion, Kaine, Warner et al. don't come out and say they're against the Atlantic Coast Pipeline and jobs.
But they stand by silently and let activists derail energy production project by project. They oppose reforming the broken permitting process that's needed for the Atlantic Coast Pipeline and other infrastructure projects to move forward.
They give lip service to and support scientifically extreme environmental measures that undermine U.S. economic growth, harm working families and place our nation at a disadvantage to other nations.
Adding to the hypocrisy is the fact that the Atlantic Coast Pipeline will deliver natural gas, which burns cleaner than coal. Blocking the pipeline will negatively impact climate change – the new faith Democrats espouse with religious fervor – as well as stall creation of desperately needed jobs.
As Tim Kaine (net worth $1.45 million) and Mark Warner (net worth$242 million!) celebrate Christmas in the warmth and security of their mansions, let us all remember who they've left out in the cold: the hardworking men and women of the building trades who built this great country and stand ready to rebuild it.
Columnist; Curtis Ellis
Official website; http://twitter.com/curtisellis