First impressions on the new rules introduced to golf this year.
(Akiit.com) The rules of golf have been under the spotlight over the last few years. Some of the most recent rules debacles that come to mind include Dustin Johnson at the 2016 US Open, Lexi Thompson at the 2017 ANA Inspiration and Phil Mickelson at the 2018 US Open. The R&A along with the USGA rolled out their most recent changes to the rules of golf on the 1st of January 2019. The new rules feature some drastic changes that have gathered quite a lot of attention at the start of the season. Let's take a closer look at some of these changes and what it will mean to the average golfer.
Dropping
Under the new rules all drops will be conducted from knee height.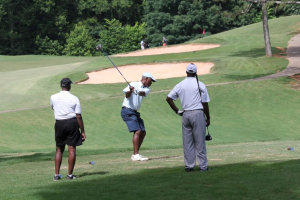 This change can be seen as rather drastic and it will take some time for golfers to change from their old to the new dropping habits. It does feel a bit odd to drop the ball from knee height but over time it will become habit and the rule definitely decreases the dispersion of dropping height.
Flagstick
Pace of play is a huge problem at all levels of golf. From the 1st of January 2019 it was allowed for a player to putt with the flagstick in the hole. This rule change will definitely speed up play, and some golfers will simply keep the flag in because they believe it will give them a better chance at holing the putt.  Bryson Dechambeau tried out the flagstick in approach at the recent Sentry Tournament of Champions and he was the putting leader in a variety of different categories in terms of strokes gained through putting etc.
Search Time
Under the old rules players were allowed to search for their golf ball for a maximum of 5 minutes, if the ball wasn't found in that time frame it was deemed to be lost. In a further effort to speed up play search time for your golf ball has been cut down to 3 minutes. Your search time starts when you arrive in the area where your golf ball was last seen. If players, and especially recreational amateur golfers, adhere to this rule it could definitely help with pace of play.
When speaking to any recreational golfer, by far the number one grievance they have with the sport of Golf is the pace of play can sometimes keep them out on the course for far too long. Golf push carts are a great way to speed up play, however it's unlikely they will ever make their way into the professional game.
Relaxed penalty area rules
Formerly known as water hazards, penalty areas include water hazards and other penalty areas such as thick bushes or rocks that are marked with stakes. Bunkers aren't considered to be a penalty area. Under the new rules a player is allowed to ground their club behind the ball in a penalty area. Players are now also allowed to move loose impediments such as rocks, leaves, branches etc. from a penalty area. These relaxed penalty area rules will definitely save a few golfers from getting a penalty shot since it was a rule that was frequently broken especially by amateur golfers.
Staff Writer; Paul Jones