Education in Adulthood- Why Go Back to School?
(Akiit.com) There are plenty of reasons that you might have left school without the qualifications you wanted or needed. Perhaps you dropped out of school due to bullies or problems at home. Maybe you had health issues which meant you didn't take your exams, or you might have been going through a rebellious phase and just didn't do as well at school as you should have. Either way, there are plenty of reasons why you'd return to education as an adult, here are just a few of them.
Improve your job prospects
One of the main reason people return to education later in life is to improve their job prospects. Having a degree will open the door to lots of better paid jobs, and then further education after that can set you apart from other candidates and enable you to apply for even better roles. Having the career you want can make you happier in general as you're doing something at work you're passionate about. And of course, a better paid position means less financial stress.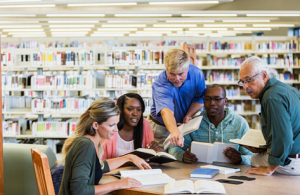 While money isn't the answer to all of our problems, not struggling and living hand to mouth can certainly alleviate many of them. Check out what kind of salary you'd be able to achieve once you've graduated, for example 'dnp jobs salary'. If money is your primary motivation to studying again, you need to make sure that the course you're doing will open the door to jobs that are worth your while.
Meet new people
As an adult, it can be difficult to meet new people. Getting back into education can be a chance to speak to other mature students, and those who have a shared interest in the subject you're studying in. It might not be your sole motivation to getting back into education, but it's certainly a bonus. Even if you're studying online, groups tend to be very social and you can add classmates on social media and chat about your course.
Self development
Self development is so important. All of us want to achieve our goals, fulfil our potential and feel as though we're living our best life. Maybe you've been stuck in a job you hate for years and are feeling unhappy. Maybe you had a family, and this time has been devoted to raising them. You might have just felt stuck, not knowing what your next move should be. Education could be the answer. It makes you feel good, ignites your interests and passions, and is something that benefits both you and your family. It can get you out of a rut, and help you to the next stage of life where you become the person you've always wanted to be.
Education these days is incredibly accessible. You can study from the comfort of your home, at times that suit you. You can do it around a full time job or other commitments, so there's no real reason that you can't make it work. If you're considering going back into education- take the plunge. It's so worth it.
Would you go back to school as an adult?
Staff Writer; Sherry Love