Movie Review; Ash Is Purest White.
(Akiit.com) It's as if someone is sending out a string of vivid postcards that chronicle a romance that's gone awry over the years (2001-2018). Indelible images of she and he as they age, cynicism grows and they become callous. In just a very few words, you understand the depth of their relationship, one that is loving, suspicious and untrustworthy all at once. You get the full picture.
Writer/director Jia Zhangke loves his homeland of China and gives some of its regions center stage: Shanxi, a plateau province in North China with a bustling capital city, and the hilly Three Gorges area that's above the Yangtze River. The pawns in his travelogue are Qiao (Tao Zhao), the very assertive girlfriend of a local Shanxi mobster named Bin (Fan Liao). They gamble together, hit the nightclubs as a couple dancing like pop stars. She hangs out with his guy friends and is as much a member of the crew as they.
One night in Shanxi, the lovers' car is surrounded and stopped by young hoodlums on motorbikes. Their driver is set upon and punched into submission. Bin enters the fracas, is overpowered and they're ramming his head into the hood of the car. He'll be killed if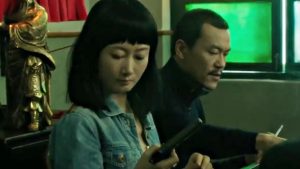 someone doesn't intervene. Bravely, Qiao brandishes a gun and stops the merciless beatdown.
She is sentenced to five years in prison for possession of a deadly weapon. Upon her release, she is a hardened woman. More than willing to con whoever she has to, to survive. When she is free, Bin is nowhere to be found. He's avoiding her. It's the beginning of a string of disappointments and betrayals that sets Qiao on a path all her own, taking her to Three Gorges and back again.
The dialogue is sparse, well-chosen and sometimes quite revealing. Bin, the cad, says: "For people like us…kill or be killed." When Qiao runs a con game on unsuspecting gentlemen who may have mistresses, she opens the conversation with this line: "I'm her older sister. She had a miscarriage." Then she puts her hand out for money.
The storyline advances through action and movement, with words and acting almost being a secondary vehicle. Qiao travels by car, boat, motorbike and trains, and the audience goes along for the ride. As she tracks down her man, she scams people for food and money and forges a new persona. Wondrous Chinese landscapes come into view, captured by vivid cinematography (Eric Gautier,Motorcycle Diaries) and enhanced by alluring music (Giong Lim).
Jia Zhangke is a consummate storyteller—an artist. He takes his time weaving his magic. His pacing is deliberate (Matthieu Laclau, editor). He drags you into a universe where people on the fringes, who menace each other, are no more than small-time crooks in a very big country. And the duet he's created between the two scoundrels is filled with pauses and silent moments that give you time to explore them.
Tao Zhao (Zhangke's wife) has a very beautiful and photogenic face, which, when stripped down to very little makeup, expresses the character's doubt, anger, fear and resignation quite well. Fan Liao looks like the Asian love child of Charles Bronson and Josh Brolin. The hair, the goatee and stern looks underline a very tough, uncaring character.
A scene when Qiao stands in the dead of night next to an abandoned building and the skies light up and flare overhead, as if something is flying through, is particularly beautiful. A sequence when a crippled Bin swipes his dinner off of a table in a rage shows how hostile he can be. The actors' sweetest moment is when the two jump over a burning trash can. Bin says, "Let's jump over a flame to chase away the bad luck.
What's on view for 136 minutes, sectioned off into three acts, is so well done you'll be more than willing to watch it until it plays out. Until Qiao's evolution from sidekick, to searcher, to con artist, to nurturer runs its course.
Ash Is Purest White is captivating. More romantic/drama than crime/thriller, but all those elements fit neatly into this aching missive from China.  Jia Zhangke makes you want to visit his homeland and all the places the two immoral lovers cheated, conned and lied.
Columnist; Dwight Brown
Official website; http://DwightBrownInk.com