Film Review; Stuck.
(Akiit.com) A musical about race relations that's set on a stalled NYC subway car sounds like a premise for a Saturday Night Live sketch—and not a good one. Further impacting this less-than-professional take on an urban nightmare is a shallow script, dull music and unadventurous directing.
In the old days, this kind of production would be a straight-to-video release or limp along the second-tier film festival circuit. In these times, it's getting a theatrical release and likely will find a place in a streaming service burial ground.
Initial scenes of a subway train pulling out of a station look cheap (cinematographer Luke Geissbuhler, known for docs and short films). Without consulting a fortune teller, you can figure out that the rest of the film will likely take place on a fake subway car set. You'll be trapped, just like the riders. If you've been on a subway lately, an indefinite train delay is every New Yorker's greatest angst. Bigger than bed bugs, rats in a doorway or trying to find a parking space.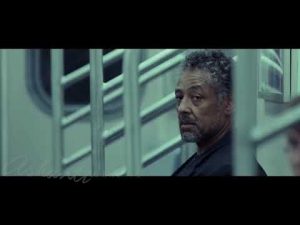 The second greatest fear for Gotham residents is that you'll be trapped with a homeless person who thinks he has talent. Playing the role of Lloyd, the token derelict, is the vibrant actor Giancarlo Esposito (Breaking Bad). Lloyd has a gray plastic garbage can on wheels, which acts as his file cabinet, medicine chest and trunk.
Before you can get up and run out of the theater or to the other side of the car, he bursts into song. Esposito is an award-winning actor, however his singing voice should be relegated to a shower. You'd don't exactly wince as he croons, but he doesn't sound like he'll ever have a top-forty Billboard hit or sing the lead in Porgy and Bess.
Before the train conductor can even utter those heart-stopping words, "..due to police activity, we will be held up…" or something of that nature, you know you're in it for the long haul. Like a game of musical chairs gone awry, six strangers find themselves marooned: Lloyd; Sue (Amy Madigan) a white senior citizen and college professor; Eve (Ashanti), a black twentysomething female; Alicia (Arden Cho) an Asian dancer; Caleb (Gerard Canonico) a young white nerd cartoonist who has been stalking Alicia; and Ramon (Omar Chaparro) a Latino construction worker/immigrant.
Together they mirror NYC demographics. And with this puddle-deep script by director Michael Berry, based on a musical by Riley Thomas, the characters flaunt their racial/cultural biases, treat each other with disdain and act hostile. As the film progresses and their character arcs become visible, they warm up to each other.
The very timely subject matter is treated in the most superficial way. It's like the writer(s) decided to do a project about bigotry without doing research and developing deep thoughts about race, culture, stereotypes or immigration.
The black character has to defend attacks from the Latino who says that African Americans are lazy. The Latino blue-collar worker gets chided for stealing American jobs by the haughty Asian dancer. The dancer gets pissed because someone thinks she's Chinese, when she's Korean. It's assumed the white woman is in fear of all the rest. And the young white nerd could be dangerous too. Insults are hurled and watching it happen is neither fun or enlightening even if the group becomes less desensitized as time goes on and comes to an epiphany.
The bland music lacks a song that is vaguely memorable. And when the characters sing, their inner thoughts are depicted in flashbacks that explain their background. The only thing worse than listening to mediocre showtunes is having them sung by people who don't have great voices. Ashanti does well with her pop/soul song, giving it a vitatliy it sorely needs. The surprise is that Amy Madigan has a very nice voice too. In fact, her personal vignette about her son's illness is the only poignant moment in the entire film. The other four lead actors shouldn't be singing solos.
Audiences who saw Rent left with memories of inspiring music ("Seasons of Love"), golden voices (Idina Menzel) and a feeling of magic for the characters and their Lower Eastside lives. Audiences who sat through Hair left with exciting visions of energetic hippies, tunes they'll never forget ("Aquarius," "Three-five-zero-zero") and political/social statements that have rung true for decades.
For 90 minutes, an unforgiving motion-picture camera lens points out all the weaknesses that must have been in the original theater piece but are much more obvious on a big or small screen.
Columnist; Dwight Brown
Official website; http://DwightBrownInk.com