The Health Benefits Of Herbal Teas.
(Akiit.com) Herbal teas have been around for many years, and unlike black tea, green tea and oolong tea, herbal teas are not really teas. Made from flowers, dried fruits, spices or herbs, herbal teas are available in a variety of tastes and flavours and they make an excellent alternative to sugary drinks or if you're bored of water.
Most herbal teas have health-promoting properties, and have been used for centuries as natural remedies for several ailments:
Chamomile Tea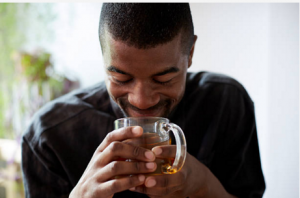 Chamomile tea is known for its calming benefits, and many people use it as a sleep aid. It is also known to have antibacterial, anti-inflammatory and liver-protecting effects as well.  More research is needed to confirm the benefits, but preliminary evidence suggests that chamomile tea offers a vast range of health advantages.
Peppermint Tea
Peppermint tea is one of the most common and well-liked herbal teas in the world. While it is most often used to support digestive health, it also has antioxidant, anticancer, antibacterial and antiviral properties. Peppermint tea is also used to relieve the discomfort of the gastrointestinal tract, but studies have found that peppermint oil can help to relieve cramping, nausea, spasms, and stomach pain.
Ginger Tea
Ginger tea is a spicy and delicious drink full of healthy, disease-fighting antioxidants. Ginger is well known for its properties which fight inflammation and stimulate the immune system. However, the thing it is most famous for is for being an effective remedy for nausea.
Sage Tea
Sage tea has medicinal properties, and scientific research is now backing up the claims of its other health benefits, especially for brain health. Many studies have found that sage can improve cognitive function and memory and it may also be able to help with colon and heart health.
CBD Tea
There are many different teas which contain CBD in their blend; the benefits of this include calming effects for if you are suffering from anxiety and restlessness. These teas are known for relieving tension and stress as well as lifting depression. You could also buy ingredients from Thrive Nevada and make your own blend with the flavors and ingredients you like.
Rose Hip Tea
Rose Hip Tea, which is made from the fruit of the rose plant, is high in vitamin C and has other beneficial plant compounds. Studies have shown that rose hip powder can reduce inflammation in people with rheumatoid arthritis and osteoarthritis and its anti-inflammatory properties might be able to reduce inflammation and the pain associated with arthritis. Other studies also have found that rose hip is effective at fighting ageing skin and reducing stomach fat.
Available in many flavors with several benefits, what have you got to lose? Get started on some of these yummy teas now!
Staff Writer; Brad Jones