Bon Appetit! The Road to Happy Customers.
(Akiit.com) You have had the idea for years and you know what the perfect kind of restaurant to open would be.  You have the money and you have the idea, so let's open the doors and live out the dream.
Unfortunately, many people jump into the restaurant business too quickly and it sinks faster than it had time to float.  People who are ambitious about opening a restaurant need to remember that it is a business, first and foremost.  There is something really exciting about seeing people pour into your restaurant for dinner and a few drinks. But, there is so much more work that needs to go into your restaurant to make it successful and keep it open.
It is no secret that restaurant competition is around every corner.  How can you open the doors of your restaurant and make it feel like something no one has ever seen before?  Finding a unique brand to convey to customers will get them in the door.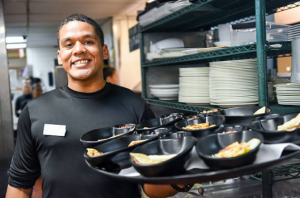 But making them come back again is in your hands!
Food for thought on running a restaurant run discusses the importance of the business side of your restaurant.  They highlight the importance of putting yourself in the customers' shoes.  What is the atmosphere like? How are they being treated by your staff? Is it warm and inviting enough to come back?  Could they get the same experience somewhere else? All questions that you need to think about before opening up the doors for the first time.
Obviously having a good reputation for great food, reasonable prices, and friendly staff will bring people back.  You not only want to bring people back, but you also want them to bring new people with them. And, if that happens, you can watch your restaurant grow bigger by the day.  
It is important to find a brand or niche that will help you stand out from the rest of the competition.  Be creative and get solid, unique looking metal table tops. Companies are available to custom make table tops for you and having something sturdy like metal will save you money over the years.  
If you have a bar as part of your restaurant, you want to draw attention to it.  If people have to wait for a table, you want to make sure that your bar is inviting enough for them to come over.  Make a unique bar top and something that is eye appealing when you look up.
Be able to offer unique eating and drinking opportunities for your customers.  In doing so, you need to hire the right staff. And not only do you need to hire the right staff, but you also need to make sure they are properly trained.  The importance of training in a restaurant highlights a few of the most important features that staff members need to be well versed in such as customer service, food handling, consistent quality, and smooth operations.  It can't be emphasized enough the importance of having effective, smooth systems in place. This will prevent confusion and distress among the employees.
And, lastly, it can't be stressed enough that you need to have your finances in line.  If you struggle with working with a budget, you need to hire someone to take care of the books.  It is important to determine how to keep up with inventory and not frivolously spend on unnecessary items, especially early in the process.  Planning out a budget ahead of time and then revisiting it every week or every other week will save you a lot of headaches, and money, in the end.  Be frugal with your money.
The dream is alive and well.  Running a restaurant can be one of the most rewarding experiences of your life.  Just be sure you know exactly what you are getting yourself into before opening your business.  With the right prep work, support team around you, and interesting concept idea, you can run a restaurant that will attract customers for years to come.  
Staff Writer; Charles Moore