Bye Bye Joe Biden.
(Akiit.com) Since his entry into the race, confident supporters of former Vice President Joe Biden have been predicting his ascension to the White House and an easy victory over President Trump next year. They point to polls which show Biden leading his Democratic opponents in his march toward the nomination and defeating President Trump in a hypothetical 2020 election matchup.
The problem with this analysis is that Joe Biden is a very flawed candidate. While he was elected to the United States Senate at the age of 29 and served for six terms, Biden has not done well as a national candidate. He ran for president twice, in 1988 and 2008, and bombed both times, receiving less than one percent of the vote.
Ironically, he left the 1988 race after the negative fallout from revelations that he plagiarized speeches from British politician Neil Kinnock. Obviously, he did not learn his lesson because, in this campaign, portions of his official statement on climate change were plagiarized as well. His campaign copied passages from the Center for Climate and Energy Solutions as well as other groups. While his staff claimed that it was only a case of "citations…inadvertently left out," it was an uncomfortable reminder of Biden's past scandal.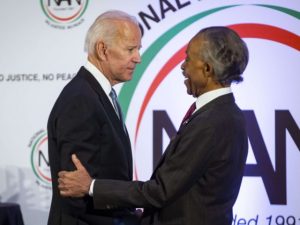 In his previous presidential races, voters were not very impressed with Biden. Today, voters should feel the same way toward a candidate with a litany of issues. Of course, his propensity to inappropriately touch women and children at public events is both cringeworthy and creepy. Several women have come forward to complain that his behavior, such as smelling a woman's hair, was unacceptable, to say the least.
Biden also has a history of making incredible gaffes. In 2006, Biden remarked that, "You cannot go to a 7-11 or a Dunkin' Donuts unless you have a slight Indian accent." In 2007, as a presidential candidate, he claimed that Barack Obama was "the first mainstream African-American who is articulate and bright and clean and a nice-looking guy." These racist remarks did not prevent Biden from being elected Vice President but would have disqualified any Republican politician from ever running for office again.
In the 2012 re-election campaign, Biden warned a crowd of African Americans that Republican presidential candidate Mitt Romney would "put you all back in chains." Again, this outrageous comment would have seriously damaged most politicians, but Joe Biden was barely criticized. In fact, most political observers remarked it was just "Joe being Joe."
His propensity for controversial statements was on display this week at a fundraiser in New York City. He praised his ability to work with former segregationist Senators Herman Talmadge of Georgia and James Eastland of Mississippi. Biden said that Eastland called him "son" instead of "boy," but noted that Talmadge was "one of the meanest guys I ever knew."
Despite their differences, Biden claimed that "At least there was some civility. We got things done. We didn't agree on much of anything. We got things done. We got it finished. But today you look at the other side and you're the enemy. Not the opposition, the enemy. We don't talk to each other anymore."
Instead of being applauded for his ability to work with others, Biden was blasted by his fellow Democratic presidential candidates. U.S. Senator Cory Booker (D-NJ) said he was "disappointed that he (Biden) hasn't issued an immediate apology for the pain his words are dredging up for many Americans." U.S. Senator Kamala Harris (D-CA) noted that "If those men had their way, I wouldn't be in the United States Senate."
As a 76-year old white male, with a lifetime in politics, Joe Biden is surprisingly out of touch with the Democratic Party today. It is hard to believe he did not realize that extolling his ability to work with segregationists, who were both Democrats, would cause a firestorm of criticism from other candidates.
The young progressives driving the Democratic Party today are not interested in a "pale, stale male" as their nominee. Despite his name recognition and lead in the polls, he will have a hard time withstanding the attacks that will come his way.
To withstand the assault, Biden has been hurtling to the left on numerous issues to appease the progressive base of the party. For example, he abandoned his four-decade support of the Hyde amendment, which outlawed public funding of abortions. This was done after actress Alyssa Milano and others criticized him. He also apologized for his support of the 1994 crime bill, which African American leaders blame for high incarceration rates across the country.
In the days ahead, he will continue to make embarrassing gaffes, move further to the left politically, apologize for previous statements and attempt to pacify his critics. None of this will be enough to secure the nomination of a party led by young progressives who are eager for change and have seen enough of Joe Biden.
Columnist; Jeff Crouere
Official website; http://twitter.com/jeffcrouere