Small Businesses Should Get To Grips With The Domestic Import Process.
(Akiit.com) Ever since this decade began, small businesses have had their list of excuses as to why they can't get into the import export market has been dwindling. Small but mighty is the new way of things. Small business can and should have an international presence, otherwise large businesses will continue to dominate in developing economies like those in Africa, Asia and Eastern Europe and South America. There's so much opportunity to be had, but there's one big problem. Entrepreneurs and small business owners don't understand how the domestic import system works. After the cargo has been delivered to a (POE) port of entry, then what happens? The crucial thing is, once the delivery has been made the cargo company providing the international shipping service is no longer responsible for your cargo. Once it hits land, it's yours. So here's how you can get your goods to your warehouse or whatever location you desire.
International shipping
After you have hired or figured a method to have your employees load each container, the next stage is to have the cargo shipped. International cargo shipping services are subject to their own nation's laws. However, you need a company that will deliver products from the import nation your goods are coming from. It's a good idea to check where the company is based and what kinds of laws it obeys. Some countries may not allow certain items past the borders. This could be specific materials, food or products. The safety and delivery percentage records are something of concern. 
Dock and unload
Cargo ships are incredibly busy all the time. They are the freight trains of the sea and they need to be loaded and on the move all the time. So, once a cargo ship has docked with an industrial port, a cargo unloading service will begin to unload the heavy containers off the ship. You need to hire a company that can provide you this for your containers. To make things simple you can speak with the container port manager or director to make a deal for your containers to be unloaded the same as every other business. This is because there cannot be many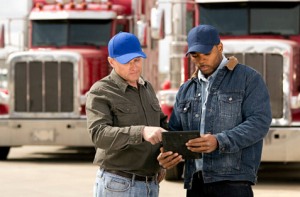 different unloading companies in one spot. Once the containers are unloaded they will also need to be temporarily stored at the port terminal. 
Load and go
The container terminal will only hold your containers for a set period of time before they will incur your business with fines. They might also return the cargo from where it came. The bottom line is, the port needs space for the other thousands upon thousands of containers coming in each day. Thus, using Knight Transportation trucking company as your freight hauler is something you should consider. They have both port and rail transportation services, situated all around the country. The trucks will be delivering the containers to your desired location which can be a manufacturing facility, a warehouse storage unit or directly to your own commercial property. 
Staff Writer; Peter Short