2.9 Billion Bird Deaths Linked to Solar, and the Wind.
(Akiit.com) Feathers at the foot of a wind turbine. Bird droppings at the base of a solar panel. A coroner could use these signs to establish the cause of mass bird death. And a novelist could pen a murder mystery titled: Death by Renewable Energy.
In 1969, there were far more active coal plants in America than today. However, in 1969, there were also 2.9 billion more birds in America. In the last decade alone, 289 coal plants have closed—a 40 percent reduction. Meanwhile, wind turbines and solar panels are going up at a record pace and scientists are reporting a "full-blown crisis" in the disappearance of 29 percent of North American birds.
"Cats eat more birds than wind turbines kill!" claim wind and solar activists. But there are fewer cats in the United States today than in 2013. Meanwhile, wind turbines and solar panels are going up at an alarming rate.
Why is nearly a third of our bird population disappearing? Common birds including sparrows, robins, warblers, blackbirds and starlings play an integral role in pollinating flowers, regenerating forests by spreading seeds, and controlling pests. We may take birds for granted—but we rely on them for a healthy ecosystem.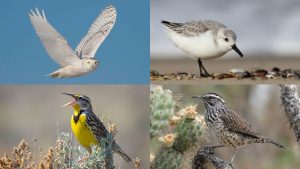 "Habitat loss" is the top reason for this bird disappearing act according to a new analysis in the journal Science. Let's connect the dots. Coal plants are shuttering. Wind and solar farms consume vast tracts of land. The bright blades and lights in turbines and solar panels actually attract birds—and the insects they eat. Therefore, Audubon reports, even if wind turbines are retrofitted: "every species of bird approaches a turbine in a different manner, so training blades to recognize all birds could take years of research."
Five years ago—in 2014—Yahoo! News reported that wind turbines are responsible for killing over 573,000 birds annually. Bird scientist Shawn Smallwood testified that one large solar farm alone—the Ivanpah solar panel project in California—likely kills 28,380 birds annually. Meanwhile, we've built more wind turbines and solar farms. Scientists claim to be "stunned" that birds are dropping in droves. But the writing, or bird guts, has been on the turbine blade for years.
Democrat Billionaires Get Richer Off Solar, Poor Pay Higher Energy Prices
President Trump is the only American billionaire in recent memory (other than the late Steve Jobs) who understands that socialism destroys the economy and hurts poor people.
Facebook founder billionaire Mark Zuckerberg (who once hosted a "Hoodie Summit" for President Obama, inviting him to Facebook headquarters for a town hall in 2011 to help him get re-elected) is about to get much richer now that he's building six solar projects – each the size of four football fields – in the New Mexico desert. Fortunately for Zuck, when a Democrat destroys land, it's called "meeting energy goals."
Billionaire former Google CEO Eric Schmitt endorsed Barack Obama for president in 2008. In 2013, he cashed in on his friendship with Obama to allocate a $1.6 billion stimulus loan toward Ivanpah solar thermal project along the California-Nevada border. Google was a joint owner of Ivanpah, and "only" destroyed 4,000 acres of pristine land and displaced a desert tortoise in the process of littering the desert with hundreds of thousands of mirrors.
The same executives jetting around the world and residing in mansions want to send the rest of us back to the caveman era. What is it to them if the rest of us lose power? They can afford to buy up 4,000 acres in the Southwest and turn it into their private solar project. Or, a crony capitalist will offer them a subsidy.
As birds die and billionaires binge, poor people pay higher prices—and face energy shortages thanks to the Democrat push for "clean" energy. Even in the energy-rich state of Texas, there are whispers of a "mandatory power cut" for consumers amid triple-digit heat. Wind and solar puts a strain on the power grid because it is not very profitable or efficient. In August, Texas became "the most expensive place to buy power in all of the United States' major markets," reported Express-News.
Wind and solar are about 2,000 years out-of-date, and I don't normally associate antiquity with cleanliness. The Roman and Egyptian ruins are called "ruins" because of all the dust and rubble. It's a myth that archaic technology will result in clean air and healthy ecosystems.
We will save birds—and the ecosystems they nourish—when we stop destroying their habitats with lethal blades and blinding panels.
Columnist; Katie Kieffer
Official website; https://twitter.com/KatieLKieffer