The Self-identifying Whistleblowers Can Be Villains.
(Akiit.com) It appears to be the year of the Whistleblower. Or perhaps it is the year of the worship of the whistleblower. But why? And what is so "honorable" about whistleblowers to start with?
We all have worked with toxic and destructive colleagues who seem to want to spread only misery and division. If these people are eventually fired, most of their colleagues are happy to see the back of them. However, some of these particularly destructive people have discovered there is a way to prevent said firing and attain an "untouchable" status. Just repackage your toxicity and bigotry as a complaint. Self-designate yourself as a "whistleblower" and suddenly your hatred can be hailed as heroism.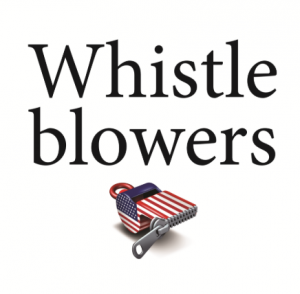 Like the recent case of the Trump/Ukraine whistleblower, it doesn't matter if much of the complaint is second-hand gossip or just plain wrong. Now that the complainant is a "whistleblower," they are protected and even venerated by the Democratic and media establishment. Seemingly this "whistleblower" is a senior CIA agent and that is a reason we are supposed to take him/her and his/her allegations seriously. Senior DC intelligence types are supposed to be above partisan politics, don't you know.
Well…perhaps. Let's take Peter Strzok, the former head of counterintelligence at the FBI. He was in charge of the FBI investigation into Hillary Clinton's private email server and started the FBI's "Russian collusion" investigation, which alleged that the Trump campaign conspired with Russia to win the election.
Strzok was one of the most senior FBI agents and a Congressman has described him as one of the top counter intelligence agents on the planet. Yet as he was having an affair with Lisa Page, one of the FBI's most senior lawyers who worked with then FBI Deputy Director Andy McCabe, they exchanged tens of thousands of text messages on their work phones. Along with sending embarrassing teenage style love bombs, the couple also whined about their work and spent an enormous amount of time plotting to destroy the Trump candidacy and presidency.
In the messages, they discussed pushing the idea of collusion with Russia as an "insurance policy" in case Donald Trump was elected. Strzok also pledged to stop his election entirely. He subsequently launched the Russia collusion investigation that was later completely debunked by Special Counsel Robert Mueller. Strzok was hardly unbiased. He wrote that he could "smell" Trump supporters during a visit to a southern Virginia Walmart.
When the messages were uncovered, Strzok and Page were suspended. Eventually he was fired and she resigned. The example of Strzok and Page shows that just because someone describes themselves as a "whistleblower" does not make them an honorable or truthful person. If Strozk had anticipated his firing, he could have very quickly wrapped the rumors and hearsay from the texts into a whistleblower complaint and he would now be a hero of the "resistance" rather than a laughing stock.
And a laughing stock he is. His private thoughts were so outrageous and outlandish I was able to turn the texts and his subsequent congressional testimony into a verbatim play. The play is called FBI Lovebirds: Undercovers and as pure verbatim means nothing is added, it can lead to explosive theater.
"Young Superman" Dean Cain and "Buffy the Vampire Slayer" Kristy Swanson played Strzok and Page and it was a riot of a night when it premiered in Washington, DC. It attracted enormous publicity and above all it was the truth (perhaps that's why the Studio/Mead Theater, which had originally agreed to host the event, pulled out at the last minute over supposed "security concerns"). The private thoughts of Strzok and Page were so ridiculous that hearing actors read them aloud even had some leftist critics in stitches.
The Federalist said that it "plays like a 'Saturday Night Live' sketch, only, every word is true and it's actually funny." National Review described the play as "DC satire at its best…that left the audience howling."
Even left-leaning outlets found it difficult to lambast the play. HBO's Vice News described it as "underground…edgy..the most dangerous play in Washington, DC."
Yet imagine if we had not had access to these private texts. We would not have known that the senior FBI agent who started the Russia investigation was disgusted by the sight of Trump supporters and believed they "smelled" when he saw them in a Walmart.
It would be naive to think that Strzok and Page were alone in their contempt for Trump and his supporters. The DC establishment is no doubt rife with such toxic snobs who want to overturn the 2016 election] and the mysterious CIA agent might well be one of these malcontents. Filling out a complaint form and self identifying as a whistleblower doesn't make you honorable or a hero with no partisan feelings. It just gives you cover for those feelings. If the media was willing to do its job journalists would be wise to inject some skepticism into their coverage of the Ukraine scandal. They seem to have learned nothing from the Mueller debacle.
Columnist; Phelim McAleer
Official website; https://twitter.com/phelimmcaleer