Uncle Joe Biden? Seriously?
(Akiit.com) The establishment narrative on Joe Biden is, to put it mildly, malarkey. Gropey J actually is everything the liberals accuse Donald Trump of being – bizarre, vulgar, dumb, corrupt, incompetent, and utterly unfit to be president. But yet the Creepy Veepy is so much more. In the last month, this totally not-senile, not-at-all-weird guy has assembled a track record of freaky behavior that would put mid-eighties Crispin Glover to shame.
Let's review…
Corn Pop is old news. Biden's latest rambling onion-on-the-belt monologue was something about little kids at a pool rubbing his leg hair or something – it's so random I'm not even linking to it. There's no best-case scenario here – he's just creepy.
Then, for no other reason than I guess he felt like a snack, he started gnawing on his wife's fingers in public and on camera. You know, like people do. You wonder what the thought process there was…
"Hey, sure are lots of cameras…gosh, I'm kind of hungry…oh look, an index finger. Yum."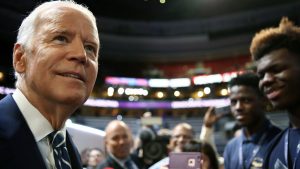 I'm a little surprised he didn't pull out a packet of ketchup.
But the best part was when some guy pointed out that, you know, Biden's loser son Lil' Crackpipe is the poster child for corruption and Sane Joe started spazzing out and calling him "fat" and challenging him to a push-up contest for some reason.
This is just odd. And this is the candidate who, amazingly, is still in the lead for the Democrat nomination.
And then there's the groping females thing. He still does it occasionally, though the media does its best to curtail coverage of his lecherous creeping. Do you believe there's any chance at all that he is not going to, at some point, have some horrifying incident with some female at the White House, you know, like grabbing the Queen for a hug n' rub, or walking absent-mindedly into the press room in a flapping robe with Little Joe and the gang in effect?
And let's be charitable. No one has ever called Joe Biden "smart." Well, maybe as a joke. The fact is that he's a 40-watt guy in a 100-watt world. Haters say Trump is dumb, but he is demonstrably not dumb. The thing about Trump is that because our garbage elite hates him it tends to ascribe all possible negative characteristics to him regardless of whether they apply. Trump is cunning, crafty and has a keen sense of strategy. You may dislike him, but that does not change the fact that alone, against the full force of the elite and its media serfs, he prevailed and continues to prevail. If Trump, who managed to figure out that it would be a good idea to campaign in Wisconsin, is dumb, what does that make Felonia Milhous von Pantsuit and the sobbing losers who supported her?
No one can seriously argue that Joe Biden is smart, and no one does. They'll either call you "racist" or start complaining about Trump. But you won't get anyone comparing the former veep to Stephen Hawking. They just sort of elide past his staggering stupidity, perhaps hoping that whoever he picks for his veep will give him a rubber ball to play with and lock him in an Oval Office closet when it's time to do some presidenting.
He's a totally corrupt swamp thing, and here's the worst part of his manifest corruption – he doesn't seem to realize that he's corrupt, if not personally than in terms of allowing his bum kid to leverage his position. He thinks it's A-OK for his boy Hoover to cash in all over the globe. After all, that's what you do, right? That's part of the benefits package for being in the liberal elite. And all these people fussing and fighting about the paternity test-failing dirtbag getting rich are totally out of line. How dare they? HOW DARE THEY!
Understand that Biden sees nothing wrong with this. Nothing. And that means there will be exponentially more of it. Hell, the useless DoJ under Trump won't prosecute obvious graft. Do you think a DoJ that's thrilled to have a fellow traveler back in the White House is going to root out Biden's business badness? You do? Well, then meet my unicorn Chet.
And SloJoe is utterly incompetent. This is the guy who thought they should let bin Laden skate. As Robert Gates, no Trumpie, said, "I think he has been wrong on nearly every major foreign policy and national security issue over the past four decades."
This is the guy who wants to take your doctor, again, and impose another brilliant healthcare reform idea, again – all designed to unscrew the last big healthcare reform the Democrats passed, which he praised as "a big [vulgarity] deal."
He wants to obey that tiresome Swedish teenager's commands to sacrifice at the altar of the weird weather cult. He wants to appoint all Hawaiian and Scat Franciscan judges.
He wants to raise taxes, open the borders, let you pay for illegal aliens' sex changes, and spark a civil war by taking guns from the people who don't commit crimes.
When you think of a calm, steady, wise presence guiding the nation, you do not think of Joe Biden, though that's what is allegedly needed to end the nightmare of the Trump presidency – you know, the record job numbers and the lack of stupid new wars. You think of Obama and Stumbles McMyturn, only dumber and touchier.
Just recently, Biden's campaign ran an ad alleging that foreigners were "laughing" at Donald Trump. Is there any Democrat anywhere who takes America's side in a dispute with malicious aliens? In any case, those tin pot euroweenies had plenty to cry about – Donald Trump has forced them to pay up for NATO. Of course, that will end too if Joe takes office. We'll return to business as usual – the business as usual of being shafted for the benefit of the global bigshots.
Basically, we'll get rid of all the peace and prosperity that Trump has brought and get back to normal – that is, people like us being plundered by the garbage elite.
Trump has a track record of success, and Democrats hate him. Joe has a track record of failure, corruption, and creepiness. Well, I guess we know why the Democrats seem to love him.
Columnist; Kurt Schlichter
Official website; https://twitter.com/KurtSchlichter