Accidents At Work – What To Do.
(Akiit.com) Have you been involved in a workplace accident? If so, you are probably looking online for the best accident lawyers to help you build a case. 
There are many different types of workplace accidents that can occur. This includes sudden instances, such as construction accidents and poor health and safety accidents, yet it also includes injuries that develop over time, such as industrial deafness and vibration white finger. In these cases, employees often get injured because their employer has acted negligently, they may have failed to provide the necessary training, hire the right construction safety superintendent, or offer protective equipment for example. 
It is important to note that when it comes to personal injury cases there is a three-year time limit for making a claim, which starts from the date of the accident. However, if your injuries have developed over time as just mentioned, you will have three years from the date of your diagnosis instead, as it is impossible to pinpoint an accident date.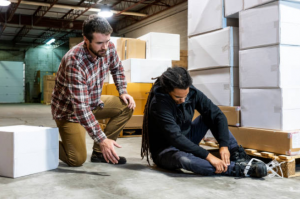 Another important factor to bear in mind is the fact that you need to report the incident to your employer. This is imperative because all employers are required to have an accident book by law, and they will need to record your injuries in here. Failure to do so could result in problems for you down the line when it comes to making a claim. 
It does not matter whether you work in the construction industry or in an office for an information technology company, your employer has a duty to ensure they provide a safe working environment. This is a responsibility that is put on them by law. Failure to do so can result in accidents occurring. If you have sustained an injury as a result of poor health and safety in the workplace you will be able to make a claim. Read on to discover what to do when it comes to this type of accident claim. 
See a doctor

– First thing is first, you need to see a medical professional. If you have been injured, irrespective of how minor or severe the injury may be, it is vital to get the proper treatment. The last thing you want is for the injury to get worse. Moreover, if you do not receive professional medical attention you will really struggle to make a claim. How are you going to prove you sustained an injury in the first place?

Report the accident to your employer or safety representative

– You have to make sure you do this immediately. Why? Well, your employer is required to have an accident book by law whereby all incidents must be recorded. It is crucial to inform them of the accident so they can record it in here. 

Make a claim

– Once you have done this you can start to make your accident claim. You need a quality law firm on your side to do this.

Keep proof of expenses

– Last but not least, from travel costs to prescription fees, make sure you keep proof of any expenses incurred. You will be able to claim for these. 
Staff Writer; Calvin Hall