Simple Tips To Look After Your Health During The Pandemic.
(Akiit.com) During these challenging times, people all across the globe are taking steps to protect their own health, and the health of the wider community. To lessen the strain on your  mental health, and to support your family members, keep these simple steps in mind.
1 . Take A Break From The News
According to the Office for National Statistics, 'The number of people reporting high levels of anxiety has sharply elevated during the coronavirus pandemic.' The data showed that 1 in 5 people had found working from home a challenge.
During trying times such as these, it's advisable to take a break from watching and reading the news. Reading too many COVID related stories may cause anxiety levels to increase further. Make some space in your schedule for some light reading instead, whether an adventure novel or a poetry book.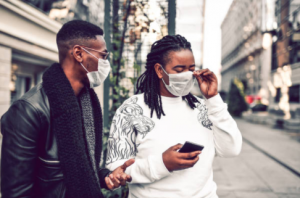 Create A Self-Care Routine
When we experience stressful times, a good self-care routine can help us to feel better fast. We all have different activities that make us feel relaxed and peaceful, so it's just about finding what works for you. For a little inspiration, consider the following.
Start a daily yoga practice (online classes or an app like Daily Yoga).

Give yourself a cooking challenge (learn how to make one new healthy dish per week. Put effort into the cooking process, even if you're only cooking for one)!

Listen to

self-care podcasts

to motivate yourself (try 'Self-Care is Sexy' or 'Self Care Spotlight').
Telemedicine Appointments
Perhaps you need to see a doctor for a non-Covid related issue? In our current climate online doctors appointments are the safest way to see a GP, fast. You'll usually have a doctors appointment via video call, and have your prescription sent straight to your local pharmacy. As for telemedicine billing, you'll find this to be a straightforward process. Depending on how you choose to pay you'll receive an invoice (or it will be sent straight to your insurance provider).
Get The Basics Right
Looking after your health doesn't need to be a complicated process, once you've got the basics right, you'll be on the right track. Focus on healthy foods with plenty of nutrients and minerals. Try supplements like vitamin C or vitamin B for an added immune system boost. Get plenty of sleep, and if you're struggling to get some shut eye try plant based supplements like valerian root. Stay hydrated and ensure that you establish a good exercise regime, even if that's merely working out from home. Getting the basics right is the best way to keep yourself safe and healthy.
Keep Up Your Social Connections  
According to a study by the American Psychological Association, loneliness is closely linked to higher rates of depression and even premature death. It's important to keep up your social connections, even if you're only able to do this remotely. Plan Zoom meet-ups with your family and friends, or socially distanced hang- outs in the park. Spending too much time alone can have detrimental effects on your health, so it's important to reach out to your loved ones and support each other.
Staff Writer; Brad Short