Let's Talk About The Vaccine. (Covid-19)
(Akiit.com) There is much discussion among African Americans, especially those under the age of 60, on whether or not they should get vaccinated for COVID-19. Whether you're in the barbershop, beauty shop or casually talking to a friend or family member on the phone, the question always seems to come up, "Are you going to get the vaccine?"
While many have already made up their mind, a majority of people I've talked to are unsure. There are questions about historical clinical trials for other diseases/viruses that have negatively impacted African Americans. There are those who are concerned about how quickly they were able develop, produce and manufacture a vaccine. And there are those who look at the reported efficacy rate of the Johnson and Johnson vaccine (which has not been approved for emergency use yet) and say they'll just take their chances.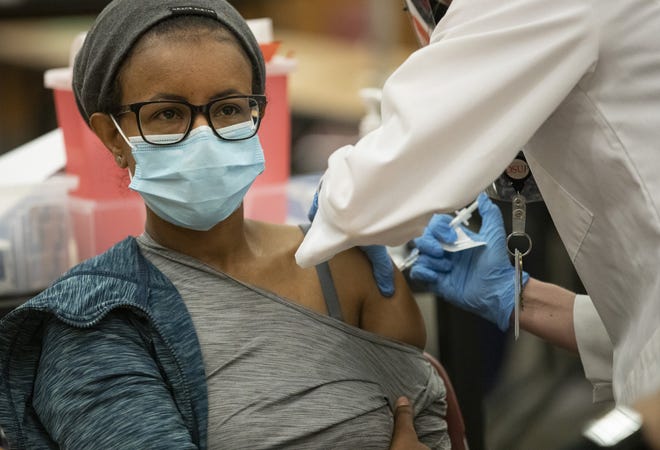 While the decision on whether or not to get vaccinated is a personal decision, it must be noted that people need to make an educated decision and not a rash decision one way or another. The fact is that we are still far away from a point where COVID-19 is a thing of the past, and we all, whether we are vaccinated or not, must continue to take the necessary precautions – social distancing, properly wearing face masks, not hosting large indoor gatherings, and washing your hands – if we hope to see the other side of this pandemic.
The real purpose of the vaccine is to try and get us to herd immunity, where 80-90 percent of the population is immune to the disease either through prior infection or vaccination, as quick as possible. According to the CDC, 37 million out of 328 million people who live in the United States have received at least one dose of the vaccine, and about a third of those have been fully vaccinated, which means we are a long way from achieving herd immunity.
It is also important to remember that the vaccine is not a cure. Vaccines cause the immune system to develop antibodies that are prepared to attack and destroy the COIVD-19 virus if it makes its way inside your body. Without these antibodies, the odds of the virus infecting you are greatly increased. With the vaccine, those odds are diminished. In the case of the two current vaccines available, Pfizer and Moderna, the odds are diminished by as much as 95%. However, we don't know yet how good the vaccines are at preventing a person from contracting virus and passing it along to others.
Here's what you should know about the vaccines:
• Both vaccines, Pfizer and Moderna, are provided at no cost. The federal government will cover the cost of your vaccine. You should not be charged or billed. Your provider should also not charge you for an office visit if you only go in to get the vaccine. You will need to get two doses. You will get two doses of vaccine, three to four weeks apart. You may feel side effects. Like other routine vaccines, you may get a sore arm, fever, headaches, or fatigue after getting vaccinated. These are signs that the vaccine is working.
• It is common to have side effects one or three days after getting the vaccine. Common side effects are tiredness, muscle pain, pain in your arm where you got your shot, fever, headache, joint pain, chills, nausea, or vomiting. If your symptoms don't go away, contact your doctor or clinic. You should wait 15 to 30 minutes before leaving the vaccine site so your vaccine provider can help you if you do have an allergic reaction or other side effects.
• After getting your initial dose, make an appointment for your second dose. You'll need to come back in three to four weeks to get your second dose. It will take up to two weeks after your second dose for full protection. Many people will have to wait months to get vaccinated. After you get the vaccine, keep wearing your mask, stay six feet (two meters) apart, and keep gatherings small to protect those who are not yet vaccinated.
• Who should get a COVID-19 vaccine? It is your choice to get the vaccine. If you decide to get it, you should tell your vaccine provider if you: • Have a history of severe allergic reactions • Have a fever • Have a bleeding disorder or take blood thinners • Are immunocompromised or are on a medicine that affects your immune system • Are pregnant, plan to become pregnant, or are lactating • Have received another COVID-19 vaccine You should not get the vaccine if you have had a serious allergic reaction to a previous dose of the COVID-19 vaccine or to any ingredient in the vaccine. The vaccines contain the active ingredient, messenger RNA (mRNA), along with fat, salts, and sugars to protect the mRNA and help it work better in the body. You must be at least 16 years old to get the Pfizer-BioNTech vaccine and 18 years old to get the Moderna vaccine.
While many people, including doctors, older relatives and others, may encourage you to get vaccinated, the ultimate choice is yours. But, regardless of your decision, remember we are all in this together. So, we all need to take precautions and make some short-term life style changes in order to get through this pandemic. Viruses move from host to host, replicate and then find a new host in order to survive. If the virus cannot find its way into a new host (body) then it will eventually die. So, utilizing most, if not all, of the tools available at your disposal – wearing masks, social distancing, getting vaccinated, etc. – is important not only for yourself, but for all of us as a community and a society.
Obviously, as we've seen already, cutting corners is not a viable option in our fight to end the COVID-19 pandemic. Whether or not you choose to vaccinate, mask up, social distance or avoid large gatherings, don't act like the vaccine gives you a green light to go back to business as usual. These are tools for prevention, not something that can help cure you after you're infected.
Through the eyes of an ink barrel, may peace be unto you!
Columnist; Chris B. Bennett
Official website; https://twitter.com/cbenn206